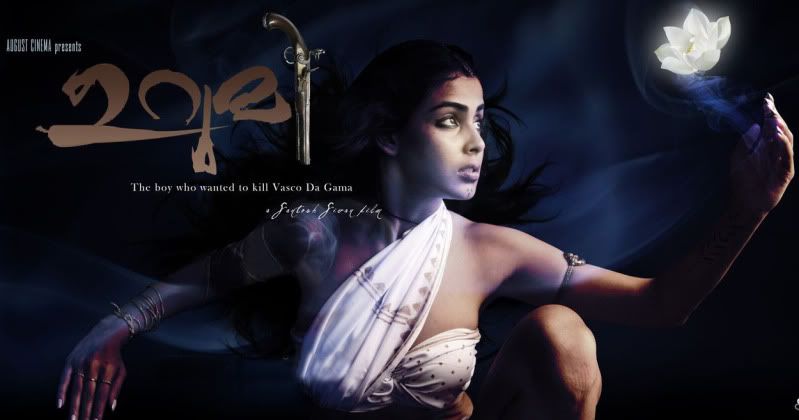 In Malayalam,  Urumi's release preceeded with two trashy superstar movies, August 15 and Christian Brothers. In a sense, time was ripe for Urumi. For the lead actor Prithvi Raj, facing a huge road block in his career, with back to back flops, this should be a welcome relief.  That he had invested in this movie as the producer, speaks volumes about Prithvi Raj's confidence in this movie. Reviews reveal that the movie is visual treat – expected from a Santosh Sivan movie.
For a moment we have to admire the producers of this movie. They could have made yet another August 15 or China Town or Christian Brothers, but they did not. Instead they came up with an original idea, got a pan-Indian cast, got excellent technicians and finally got Deepak Dev to compose classy music. So for those who claim that Christian Brothers is "entertainment" and that we should feel blessed that our superstars have created another rehash of all their previous movies, this movie shows a different path.
Its a gem among the utter non-sense that is running now in theatres; namely Christian Brother and August 15. A real serious, dead-on-the-money commercial film from the master craftsman – Santhosh Sivan makes the film the best visual treat available now.
Anees KA writes a detailed and innovative review
1. Cinematography – Of course, no one needs reminding that the camera is set in motion by … and he still continues to wonder.
2. Art – Minimal/Simple/Effective/Impressive
3. Lighting – The most awesome and un-appreciated part of this film is lighting or rather the lack of it. This film is an excellent example to other Malayalee directors on how to make use of ambient light.

4. Direction – Commendable improvement from Sivan's last Malayalam outing – both in terms of story and direction. I see that Mani Ratnam's closeness is finally producing some positive effect on this guy's direction. A drooling pace was his trademark so far. With this film, he almost manages to break it.
5. Makeup – On target. I hardly noticed any makeup.
6. Costumes – Always costumes are invariably the worst part of every Malayalam period film. Everybody from the rich to the poor, wear brand new un-soiled clothes. But this time, its taken care of. And I respect the artists involved for their meticulous effort.
Habeeb Arakkal Writes an interesting review:

Santosh Sivan's Urumi is a miniature masterpiece of moods, emotions, anxieties ruled by a thirst for revenge. The film unfolds like a ballad and is a sweet and simple fairy tale. The 170 minutes film works to a large extent to its perfect casting, fantastic performances, soothing score and technical brilliance.

Santosh has made it like how a period drama should be made without too much talk about freedom struggle, no bombastic dialogues or playing to the gallery for heroism. His vision and concept gives this epic the feel of a Brave Heart or Gladiator.
Rediff.com Comments[ a tad detailed than usual]:
Technically, Urumi has the Santosh Sivan stamp all over it; not only angles of shots but even the gait of every actor is peculiarly choreographed so as to give the performer an individual style, sometimes stretched to the extent that we feel that they are striking a pose for a still photograph.

Prithviraj is masculinity personified with an opportunity to show off his bulging biceps throughout. Prabhu Deva's bony physique (who plays his childhood chum Vavvali) acts as contrast, as is Jagathy Sreekumar's effeminate villainous Chenichery kurup.

GeneliaD'Souza, as the warrior princess Aysha, impresses.

Nithya Menon as flirtatious and childlike. Paired with Prabhu Deva, she has her moments of glory. Only Vidya Balan's presence is not justified by the story.
The music director of the movie Deepak Dev have succeeded in giving immense richness to the soundtracks with his songs and background scores, set in epic proportions. All of his songs comes up in the right places. The technical crew including editing by Sreekar Prasad and camera department headed by the director and Anjali Shukla, has given the best of the outputs, which are hard to describe in words. So is the case of the art director, the makeup team lead by Renjith Ambadi and costume designer Eka Lakhani who seems to be in the running for the Nation's best accolades in the coming National awards, for their contributions to this movie..

All in all, 'Urumi' is a must watch for all those who love quality cinema. Redefining the traditional qualities of period dramas, 'Urumi' is sure to become a movie that will be respected and adored by Mollywood for its creative panache, tremendous performances and great technical wizardry.