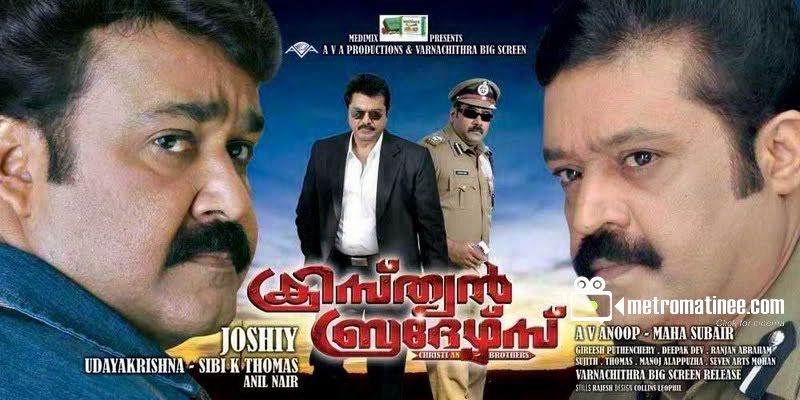 Joshiy and his team have reworked their 'Twenty-20' template to make a half baked thriller called 'Christian Brothers'. There are foreign location songs, superstar Mohanlal in a larger than life role, father-son sentiments, Dileep's comic acts,  twists which come in every thirty minutes,  Suraj Venjaramooodu's bufoonery, an interval punch similar to what we saw in Twenty Twenty, fight between the superstars(Mohanlal,Suresh Gopi), a little bit of skin show(in the form of Lakshmi Rai) and everything else needed for a commercial potboiler;  yet the movie fails to engage you completely. Christian Brothers will be lapped up by the fans of the Superstar for sure and in all probabilities will become a big hit. But for an average movie goer it is just an average fare.
Story and the Script: Scripting for a multistarrer is no child's play. Uday Krishna and Sibi K Thomas have come up with a no brainer script this time too. 'Christian Brothers' is marginally better than their own 'Pokkiri Brothers' but is not as entertaining or racy as Twenty Twenty. The loop holes in the script are far too many.
Christy (Mohanlal) is an informer to the Mumbai Police. Meenakshi, the daughter(Kavya Madhavan) of the Kerala Home minister gets kidnapped and Christy is called for help(remember Sagar Alias Jacky).  Christy happens to be the brother of Jojiy(Dileep) who is madly in love with Meenakshy.  Some unexpected twists later, Meenakshi's kidnapper George Kutty(Suresh Krishna) gets killed and Christy is the suspect.  Enter Joseph Vadakkan, the super cop played by…you guessed it right!  There are also a number of subplots involving Laksmi Rai,  Lakshmi Gopala Swamy,  Jagathy Sreekumar et al. Biju Menon, Vijaya Raghavan, Jayan play the baddies while Saikumar(!) plays Mohanlal's father.  As in Pokkiri Raja there is a father-son sentiments track here too. Sarath Kumar as Andrews has a very small role and features in two important sequences.
The main problem with the movie lies in its script itself.It is a remixed version of 'Twenty-20' and 'Pokkiri Raja'. The first half of the movie (in which issues like land grabbing have been delt with topically)is a bit confusing and also drags considerably.  The much hyped fight between Joseph aka Thomichan(Suresh Gopi) and Christy fails to make any impact. Those who have seen twenty twenty would easily predict the interval twist involving the Underworld don Andrews and Christy. The father character of V.Mapilla(Saikumar)is just a xerox copy of Nedumudi Venu's character in Pokkiri Raja.
Direction:  Joshiy has done a decent job at handling all these big stars efficiently.  CB is the kind of movie which relies heavily on it's star power rather than a credible story line to get itself worked at the box-office and the veteran director has made full use of his huge star cast here.
Cast and Performances:  CB is Mohanlal's show all the way and his character, Christy will be a treat for his fans. Though the movie has nothing challenging for an actor of his caliber, it will give him the much needed hit. Suresh Gopi repeats his daredevil cop act for the nth time and honestly I didn't like his character much. Dileep plays his usual comic acts with elan,  manages to raise a few laughs whenever he is on screen. Though Sarath Kumar has a very small role he looks aged and tired on screen.  The leading ladies have nothing much to do.  In big budget movies like this, the female characters are casted just for the eye candy bit. Even no such luck here.  All the heroines except Kaniha looked plumb and totally out of shape.  Suraj Venjaramoodu manages to irritate the audience with his stale jokes.
Editing:  Ranjan Abraham hasn't resorted to fast cuts and other gimmicks for cheap thrills. But at almost 3 hours, Christian Brothers  is way too long.  Wonder why 1)Suraj Venjaramoodu 2)the 'sayyavve' song picturised on Mohanlal and Laksmi Rai 3)the character played by Harisree Asokan 4)even Lakshmi Rai were included in the film.  A lot of scenes in the first half of the movie were really unwanted and the lag was overtly felt at places.
Cinematography: Anil Nair has done a shoddy work with his camera. The movie suffers due to excessive lighting. Lakshmi Rai hasn't looked so bad on screen before! Extreme close up shots were also there in abundance. Every pore and crease on her face were clearly visible, thanks to the mediocre camera man.  Another instance in which Anil Nair's camera plays the spoil sport is the London scene in which Dileep is talking to Kavya through phone.  The whole scene is lit up in such a way that even a ten year old can spot the thick layers of make up used on Dileep's face.
Songs and BGM: Deepak Dev hasn't disappointed much.The songs are hummable especially the Moham Kondal track. The picturisation of the other two tracks Karthave and Sayyave are lousy, to say the least.  While the Karthave song has a  Maine Pyar Kiya (CID Moosa)/ Kavilinayil(Vandanam) hang over to it,the  Sayyave track suffers due to the unnecessary skin show by Laksmi Rai. Both Lakshmi Rai and Kavya Madhavan doesn't look good and are overweight. The re-recording reminded of Twenty -20.
Verdict:  Christian Brothers will be loved by the fans of Mohanlal,Dileep and Suresh Gopi. For others its only a watchable fare. CB is no Twenty Twenty.Though it tries too hard to be one, it only ends up as a pale imitation. Rating-5/10
Reviewed by nikhimenon@gmail.com,nikhimenon.blogspot.com