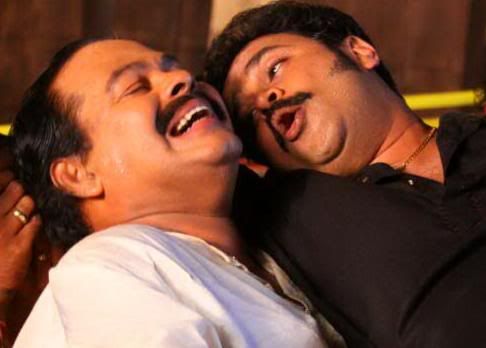 by nikhimenon
Pappy Appacha is brutally bland!
Thanthonni, Pramani, Janakan, Body Guard, Agathan… Malayalam cinema has been delivering duds one after the other this year. Debutant Mammas (mis)directed Pappy Appacha ,  is nothing but a mere addition to this seemingly 'never ending' list. The movie is painfully silly, predictable and boring to say the least with some mediocre performances by the lead cast.
If George 'Thanthonny' Varghese's did a cut and paste job on his favourite movies like Usthad, Narasimham, Lelam, Vazhunnor, Devasuram and Puthiya Mukham to deliver a Thanthonni, Mammas has done the same to Sathyan Anthikkad directed Manasinakkare, Sibi Malayil's Ishtam, Joshiy's Lion and Lelam and served it as a weird 'dish' called Pappy Appacha.
The posters of the movie promised to be a light hearted tale on the friendship between an illiterate father son duo. But sadly the movie ends up as a B Grade flick with cheap/stale jokes( that seldom rises above the standard of silly 'tintumon' kind of sms jokes), loud action scenes, fake melodrama and a predictable climactic twist(which is a routine these days, thanks to Lal) that might have worked in the techni colour era.The audio CD of this movie had a couple of melodious numbers tuned by Vidyasaagar like 'Manjin Velli' and 'Thammil Thammil'. For some strange reasons the makers haven't included these two songs in the movie and there are two other noisy ones instead which can potentially gift you a migraine.
Coming to the performances, Dileep repeats his usual antics and one liners for the nth time with limited success. Innocent is wasted and he has had a better role in Satyan Anthikkad's Manasinakkare with Jayaram. K.P.A.C. Lalitha yells at the top of her voice whenever dileep feels sad and so does the girl who plays Dileep's sister. Kavya Madhavan looks plumb and totally unfit for the role. Cinematography was adequate which Sanjeev Shanker aptly did visualising the beauty of Melukavu-Thodupuzha on screen. Had the editor been sincere to his work ,the movie wouldn't have been this much painfully long and for the same reason I dare to accuse the editor for complacency. One of the plus points of the movie(and may be the only one) was the genuinely funny title cards.
VERDICT: Avoidable