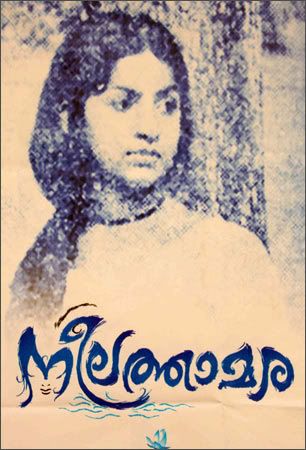 As the legend goes,  blue lotus blooms as a sign of god's  answer to one's prayers.  Movie lovers in Kerala been praying for good cinema for a while and we were hoping that Lal Jose's Neelathamara would be the answer.  Reading the reviews we are not 100% sure about it as the opinion is divided. The story of a maid servant falling in love with the rich boy might have been new in the 70s, but it is no longer so. We had many variations of theme, among which Nandanam is our favorite.
So even though there is nothing new in the story for the viewer in 2009, what is unique is Lal Jose's treatment, the new actors which the movie introduces, Vijay Ulakanathan's camera work, and Vidyasagar's melodious music[Read Neelathamara's music review by Vivek Ranjit here].
Kailash is my pick of the lot, when it comes to the performers in the film. He is as much a hot blooded, charismatic and flirtatious youngster of the 70's as one can be. Confident and remarkably talented, this young actor is one who would be around for a long time to come. Archana is every bit the demure, coy village girl and the innocent sweetheart. Samvrutha puts up a starkly moving performance that should count among the best that she has come up with till now in her career.

Lal Jose is the man when it comes to creating verse on screen. Beautifully shot, Neelathamara has been conceptualized with an effervescent artistry. Vijay Ulakanathan's camera work is nothing short of brilliant. The three songs that have been set to tune by Vidyasagar are mind blowingly melodious to say the least.

Neelathamara does make an effort to wedge itself into today's world. And I would grant it to Lal Jose and his team for having done the best with a theme that felt right three decades back.
Hindu offers some interesting tidbits:
Where the first 'Neelathamara' ends, the present one opens. The remake is actually the flashback. MT has woven a topical twist to his old script which jells well. Sreedevi Unni who dons the mother's role stands out for her natural acting.

Archana Kavi has that vulnerable look and understated emotions that go well with rural girls. The male protagonist is played by Kailash. The smaller characters like the caretaker, the man under the banyan tree and the old servant leave an impression with the viewer.
Lal Jose has done justice to the script written perhaps a bit too much as well. His handling of the sequences is true with the pace of the story. He has been able to extract creditable performances from the cast especially new comers. Cinematography is superb and one of the best reasons to watch the movie. Lighting is superbly done in night sequences. It looks poetic. Music is lilting with 'Anuraga' being one of the best melodies of the year. The Ghazal during the sad sequences is aesthetically shot. There is no injection of unwanted comedy, drama to increase the length. Its sharp as much as the script demands. 1 hour and 45 odd minutes.
The performance of newcomers Archana and Kailash comes very close to be called enchanting. Archana shows the class of a veteran displaying requisite vulnerability spontaneously. Her expressions and body language convey more than her dialogues. We just hope that this is just the beginning of a long innings. Kailash displays the haughtiness of the male of yesteryears who believes that he is a superior being. He may initially miss being a chocolate boy hero. But, he will surely come on his own as time goes by. Rima's role as Ammini — Kunjimalu's sounding board — is insignificant and not well chiselled as one would expect. Or was it truncated on the editor's table?

All in all, Neelathamara, is lush film without a solid core.
M T seems to be in his familiar terrain, with precise, crisp but powerful dialogues. Interlaced with themes of sensuality, infidelity and sincere romance, the director has created a visual marvel with the aid of cinematographer Vijay Ulaganath and art director Gokuldas. The flashback really gives the feel of 'being there', with its realistic settings and greenish tones. Recreation of the early eighties with minute detailing, from that cigarette packs to note books, tape recorders and newspapers is a definitely applaudable directorial stuff. Lal Jose and his regular crew once again displays why they are called as masters of mainstream Mollywood.

With a duration of just 110 minutes, 'Neelathamara' races steadily asking the viewers to want for more. Sticking to that impeccable styles of M T, with a little more directorial and technical finesse than some veterans who usually handle M T scripts and with loads of understated but impactful substories and strains, this is definitely a must watch for a serious movie lover. The coming weeks of the movie at the box office will prove, how far the current generation has equipped themselves to get on to the range that an M T script and visuals offer. Hat's off to Lal Jose and his team to prove that young makers are still here to bring back the splendour of that eighties.
Image courtesy: rediff.com