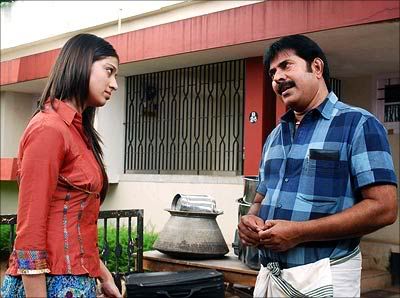 The story of Devasuram – an evil man's fall and his redemption is quite powerful. The narrative offers many dramatic moments, for the evil to manifest, to experience the fall and then rise up again. It offers the script writer opportunities not just to perfect the protagonist, but also the supporting cast including a very powerful female lead. Ranjith made that script perfect. Mohanlal and Revathy were perfect so was I V Sasi's direction and M G Radhakrishnan's music.
Now what happens when one of Ranjith's protege's, M Padmakumar, gets obsessed with this script? You get Vargam, which is a clone of this movie. The setting was different, but direction was perfect. A young Prithviraj did his role to perfection, but even now we can't recollect if the movie had songs or not.
Paying your respects to a movie even once is risky since it can either go the Sarkar way or Ramgopal Varma ki Sholay way. If Vargam went the Sarkar way, guess which way Parunthu went?
In this movie, Mammootty plays Parunthu Purushottaman, a money lender who really does not care about people to whom he has lent money, even if the entire family commits suicide. He goes on a rampage in the first half demonstrating scene after scene that he does not have any human emotions. Then the inevitable happens, like how Mangalassery Neelakantan is beaten and left for dead by his nemesis Mundakkal Shekharan, here Parunthu is stabbed by an accomplice of his nemesis.
The rich man finds himself lying in a hospital bed with no one to attend and no money in his hand. Due to kindness of one of the women whose life he had destroyed, he is saved, even though one of his employees whom he telephoned could have bought the money for the surgery. Within the span of one song, Parunthu turns chicken. He apologizes to everyone, fights the nemesis and everything ends well.
We don't know what T A Razak and Padmakumar were thinking when they worked on the script. The people of Kerala have internalized Devasuram and so any amount of hand waving will not prevent them from seeing the weakness in the script. And weakness is what the movie has in plenty. An unbelievable rich man played by Jagathi, who has borrowed lakhs from Parunthu but is more interested in conducting industrial grade dandiya in his home. The Revathy equivalent who is too feeble for such a heavy role. An Oduvil equivalent – his mother – who pops in and out. There is even a Kottayam Pushpanath moment when a bullet flies towards Mammootty and he just dances around it. But by then this has become such a comedy that we really don't care what Suraj Venjaramoodu is trying to do.
Now Padmakumar has made the same movie with Mammootty and Prithviraj. What next? The same movie with the other super stars of Twenty 20?. We have a simple request. Please don't abuse that script. If we want to see a great movie, we will even skip Vargam and watch Devasuram any day.
Image courtesy: Rediff.com