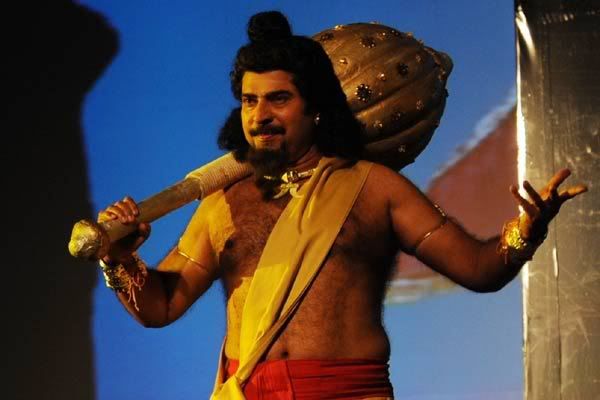 We are familiar with the trend of Actors migrating to the lucrative world of cinema from stage. Recently. Mohanlal from his comfortable perch in commercial cinema made forays into theatre by acting in a Sanskrit play named Karnabharam, written and directed by Kavalam Narayana Panikker.
Mohanlal has taken time off his busy shooting schedule in Hyderabad for a fortnight-long rehearsal at Kavalam's Sopanam Art of Performing Arts, Trivandrum. The actor is busy learning the basic steps under the tutelage of Kavalam and his experts. Mohanlal has already mastered the Sanskrit dialogues made available to him in cassette form.

Though Mohanlal thought Sanskrit would be beyond his grip, learning it did not pose any problem for him. "The language was very kind to me. I have been able to grasp the finer points of the rich language," he said.

Both director and the actor are excited about the project. Kavalam said he was hopeful of exploiting the full potential in the actor, who has always shown the humility to learn more and work hard in his quest for excellence. He said that the work that Mohanlal put in to learn Kathakali and Kalaripayattu for his previous films would come in good stead for Karnabharam.[Mohanlal's new Obsession]
Mohanlal followed it up with another stage drama – Chayamukhi.
The Malayalam play, 'Chayamukhi,' which features actors Mohanlal and Mukesh, will be staged by Kalyan Silks at the Lulu International Convention Centre here on March 12.

Addressing a press conference here on Tuesday, Mr. Mohanlal described the play as a 'labour of love.'

"The stage has always attracted me. I wanted to associate with a stage production after I did Kavalam Narayana Panicker's 'Karnabharam.' I found 'Chayamukhi,' written by Prasanth Narayanan, interesting and decided to act in it.," he said.[Chayamukhi to boost theatre]
Mammootty was not far behind. Recently he acted in the stage adaptation of Randamoozham.
The show titled "Bhemman" was organized by Malayala Manorama, where the actor displayed his ease in stage acting too, in the roles of Bheema, Arjuna, Karna and Yudhishtira. Directed by T K Rajeev Kumar and Pramod Payyanoor, the show also had multimedia projections and backdrops with eight screens via four projectors working in tandem. The deep voice and intense performance of Mammooty supported by 13 other actors in lesser roles definitely moved its creator M T vasudevan Nair deeply. The veteran who discovered the star in Mammooty in the seventies, congratulated the actor for his mesmerizing performance and blessed all his future endeavors.

Mamootty who saluted MT for infusing meaning to every pregnant silence of Mahabharatha through the master work "Randaamoozham", was more than happy for his mentor's whole hearted blessings. Mammootty later said that the offering was a gurudhakshina  for M T , who made him read  serious literature in his childhood. He also stated that MT was a writer who wrote very strong characters for his screen performances.[Mammootty plays Bheeman, charms audience]
If there is a piece of literature we fervently wanted to see on silver screen, it was MT's Randamoozham. Over the years, we had heard rumors about that novel being made into a movie, but they remained rumours. Probably the logistical challenges and huge budget involved deterred producers from financing it. It could also be that producers were worried about that MT's exploitation of silences in Mahabharatha may not find success unlike the case of Oru Vadakkan Veeragatha where MT exploited the pregnant pauses. Randamoozham would have been an ideal choice for AMMA, to be made as a movie, to leave an indelible mark in cinematic history, instead of circus vaudeville act known as Twenty-20. But there is limit to what to expect from Dileep-Uday-Sibi team.
We need a revival of theater. These two gentlemen, maybe inadvertently helping that cause. Theater can adopt classics without the expense of cinema as exemplified in the cases above . Also it would give good competition to the current crap being dished out in Malayalam cinema.  With these worthies involved, theater can withstand competition from TV. Isn't these the stuff Utopian dreams are made of?
Photo courtesy sify.com