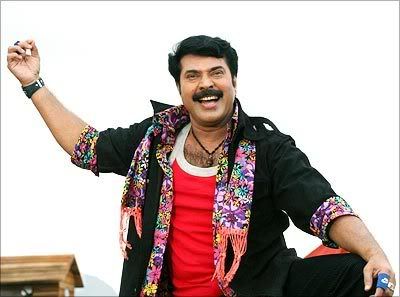 Looks like Annan Thampi have saved Super stars from collective shame, and might be able to make its viewers and producers smile. Anwar Rasheed has made an unpretentious movie which rides on Mammootty's comic skills. Reviewers call the movie an 'entertainer'!
NowRunning.com calls the movie laugh-a-minute comic escapade:
Annan Thambi is a laugh-a-minute comic escapade that would help boost your spirits and stretch those lips into a wide grin. A delightful blend of high and low humor pulled off splendidly with style, the film is a rib tickler that aims right at your funny bone.

Appu and Achu (Mammootty) are twin siblings who were born with swords drawn at each other and as years pass by, the no-holds-barred bullfight between the two goes on. A highly voluble Appu majestically rules over the Pollachi Market and is wooed by Thenmozhi (Laxmi Rai), niece to his erstwhile-associate-turned-foe Dharmarajan (Rajan P Dev). A dumb Achu meanwhile relives the Puranas in his dad's drama troupe while lamenting a lack of issues even after five years of matrimony with Lekshmi (Gopika).

Anwar Rasheed's Annan Thambi is a double dhamaka with nothing subtle or unique about it, and yet it's a movie that's fashioned to please. You do stand the risk of busting a gut on a couple of occasions despite the film unraveling a tale that's as old as mankind itself. Oh yes, we can see it all coming on time and right in place and we might even rail against it at times; it's nevertheless a charming film made bright by a few droll souls who spread loads of joy and cheer all around.
Rediff.com calls movie breezy and entertaining:
When the hero's entry is greeted with a shower of marigolds, we can easily gauge the tone of the film. Especially if the location happens to be the buzzing Pollachi market, where a dozen goons beat up a poor soul and try to rob him. We know then that the film is in the Thenkashipattanam format, where superstars bond in an alien land and establish their supremacy over the locals.

But this week's Malayalam release, Annan Thambi, is different. The writer-director team of Benny P Nayarambalam and Anwar Rasheed (their second outing after Chotta Mumbai) make it breezy and entertaining in spite of staying in the formulaic sphere.

It is the story of twins, played by Mammootty, who are at loggerheads with each other since the time they were born.
Photo Courtesy: Rediff.com