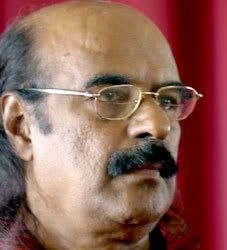 Actor 'Bharath' Gopi passed away on Tuesday afternoon in a private hospital in Thiruvananthapuram.
Eminent Malayalam film actor, Bharat Gopi, who mesmerised the audience with his versatile talent, died in a private hospital here Tuesday following cardiac problems, family sources said. Gopi, 71, is survived by wife, son and a daughter.Gopi suffered a heart attack last week at a shooting location in Alappuzha and was brought here two days back for specialised treatment.
Making his debut in a minor role in Adoor Gopalakrishnan' Swayamvaram,' Gopi made it big with his lead role in the director's next film `Kodiyettam' which earned him the Bharat award for best actor.[actor Bharath Gopi dead ]
Gopi had made deep impression on Malayalee audience with his intense acting and unconventional looks. Gopi won Bharath award(Now Best Actor award, Bharath title was discontinued from 1978) in 1977 for his stellar performance in Adoor's Kodiyettam. He had won Kerala State's best actor award three times Kodiyettam(1977), Ente Mamattukutti Ammakku, Eenam, Ettillam, Kattaththe Kilikoodu( 1983 )and Chidambaram (1985).
In 1986, at the peak of his career, he suffered a paralytic stroke
Gopi never looked back since then but for a personal tragedy that came in the form of a paralytic stroke at the peak of his career. With his resolute will and devotion to acting, he made a comeback after an interlude of eight years and picked up roles suitable to him despite physical constraints.

The recent flick, "Rasathantram" by Satyan Anthikad, gave the film lovers a chance to see their great actor once again on the silver screen[Gopi, a versatile actor]
Gopi had directed five movies – Njattadi, Yamanam, Ente Hridayathinte Udama, Daivathe Orthu, and Ulsavapittennu. Yamanam won National award for Best Film on social issues. So complete is his mastery in the medium of cinema that, he won the National award for best book on Cinema for his book Abhinayam Anubhavam. He was conferred Padmashri in 1991.
I haven't yet got a chance to see Kodiyettam, for which Bharath Gopi received the National Award for best actor. But I have watched most of his other films, starting from Peruvazhiyambalam to unforgettable characters in movies like Chidambaram, Yavanika, Kallan Pavithran, Panchavadippalam, Kattathe Kilikkoodu, Aarorumariyathe,
and many others. He, along with Nedumudi Venu, under directors like Mohan and Bharathan have given us several brilliant and moving films during the 1980s, which all were based on simple story-threads that heavily depended upon the sensitive portrayals of characters. That era is gone forever.

Bharath Gopi's ability to transform himself to widely different types roles was amazing. When we see him as a sadistic father in Vasanthiyum Lakshmiyum Pinne Njanum or as the kind-hearted landlord in Swaham we wouldn't feel even for a moment that the person we see on screen is doing any sort of "acting".
Rajeev Srinivasan compares him to Brando and Geilgud.
i don't think there has been a better exploration of crime and punishment in indian cinema. and it was based on a brilliant short story by C V Sreeraman, who passed away about two months ago. it was gloriously shot by master cinematographer shaji n karun, and there is one particularly magnificent tracking shot of the fleeing gopi that i still remember vividly after 20 years.

just these two performances (one with each of the best-ever film-makers in malayalam,aravindan and adoor), were enough to raise gopi to the stature of a world-class actor. of course, he did much more. i didn't know about his stroke and his book on cinema.
John Cheeran remembers some of Gopi's memorable performances
Gopi's hallmark was that he donned ordinary roles without heroism but gave them an extraordinary touch of realism. In other words, Gopi was closer to you and me in flesh and bone. We are ordinary men and women, mere straws in the wind. Gopi too was one among us, but he showed us that despite his lean frame, and balding scalp, he could be accepted as the symbol of manhood. Gopi was fortunate, and fortune favours the brave, to have got such roles as he done in Yavanika, Rachana, Ormakayi and Swayamvaram. And what a polished performance he has given as the Shakespeare Krishnapilla in Bharathan's Kattathe Kilikoodu.
Talking to Shobha Warrier of Rediff, he explained the secret behind his performances
"I need the full script, only then I will be able to do full justice to the role," he had said. "The character does not go inside me, I go inside the character. The character is formless, unseen, in front of me, and I enter the outline drawn by me. If an actor takes the character inside him, what you see will be the actor and not the character."
He will be missed.
Image courtesy: Manoramaonline.com