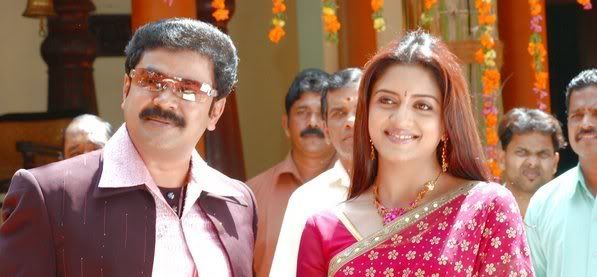 In our preview, we wrote that Rafi-Mecartin and Rajasenan have just one trick up their sleeves and they repeat it again and again. According to the reviewers, this time it is no different. It is the same comedy routine repeated ad infinitum. One of our regulars, Jibs, had noted that if Dileep did not change his tactics, he might go the Jayaram way and that is exactly what Rediff's reviewer too had to say.
< The plot seems good and interesting coming as it does from Rajasenan, but post-interval things seem to go out of control and even seem to be boring at places. Dileep is OK as Manu, but there is nothing outstanding about his performance or character. Vimala as Priya is passable, but at places she seems to be rather uncomfortable with the role. Samvritha as Leena is good while new girl Shruthi doesn't impress much as Bhama The film moves at a brisk pace in the first half especially as the emphasis is mostly on verbal comedy, but post interval the pace slows down and some of the scenes seem to lack freshness and appeal. The songs though in tune with the theme and mood, are ordinary and won't stay in our memories for long. Nambiathiri's camerawork is good and so is Raja Mohamed's editing. The film is an average comic entertainer, and not a terribly bad one at that. But judging by the response inside the theatres on day one, it is to be seen whether the film does good business or not.
Rafi and Mecartin loves the Priyadarsan type of comedies where bus load of characters, some of them with mistaken identities, others with their own comic agenda meet in the climax and its total bedlam. Once more the "mad, mad, mad world formula" has been beaten to death. There is no original bone in the story or narration, everybody does their comic act and provide their quota of laughs and disappears.
Dileep, Haneefa, Sooraj, Salim Kumar, Bheeman Reghu (comic villain), Riza Bava, Asokhan, Malika Sukumaran (a new addition to the laugh brigade) does their roles competently and proves again that they have terrific comedy timing, while the girls Vimala, Samvrutha and Sruthilakshmi looks good.
Paresh Palicha, for a change has some analysis
The screenplay has everything that you can imagine in the slapstick films of a bygone era. There are impersonations, mistaken identities and what have you.

The first half works with 'a laugh a minute' situations. But this gets too much in the second half. It would have worked if the gung-ho spirit was maintained throughout the duration of the film. Somehow we get a feeling that the writer(s)-director team were clueless about how to get out of the quagmire they found themselves in.

Dileep seems to be control in the beginning as the role of Manu is tailor made for him. But this does not last long as the film proceeds. Known as a poor man's Mohanlal when he started doing roles like this, the actor, of late seems to have lost some sheen in executing them. He had better rediscover himself soon or his career will go Jayaram's way.
(Image via NowRunning.com)