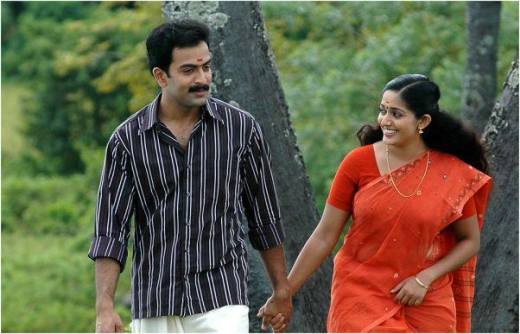 After 28 movies, the trade circles think that Prithviraj can be a solo hero. When Classmates was a super hit, it was said that it was not a single hero movie. When his roles in Vargam and Vasthavam were said to be good, it was suggested that he cannot do comedy. Now that Chocolate is a big hit, new goal posts have to be found or the existing ones have to be shifted for higher excellence, like he cannot speak Arabic very well or he has not danced in the streets of New Zealand with Kavya Madhavan.
Such opportunities will be abound when Prithviraj's new movie gets released in December.
Prithviraj plays Josekutty of Palakunnel family, who despite being a graduate, takes up the job of an auto driver, in order to support his family, which is suffering from a financial crisis. Kind-hearted Josekutty has a good friend circle too–Manmadhan, Chellappan and Prasanth. Once, when he happens to find a one-and-half-year-old child on the streets, he decides to adopt and bring up the child. Since that moment, he takes the child wherever he goes, providing him all needed care.[Prithviraj's Kangaroo set to release in Christmas ]
The movie is directed by Raj Babu who is known for the Dileep action-thriller Chess which turned out to be a boring  action-thriller. Since this Kangaroo is being marketed as a comedy movie, we are not sure, if it will turn out to be a boring comedy movie. That depends on the talents of J. Pallassery who is not known for comedies. Also one of the last movies Pallassery scripted, Panthayakozhi, turned out to be anything but a fighting rooster.
In December, this movie, which also stars Kavya Madhavan and Jayasurya is going face tough competition from both M&M's and Dileep's Romeo. Right now the question facing most vc readers is: Is Dileep 10% of Prithviraj or is Prithviraj 10% of Dileep. The answers to those questions can be found before the New Year.