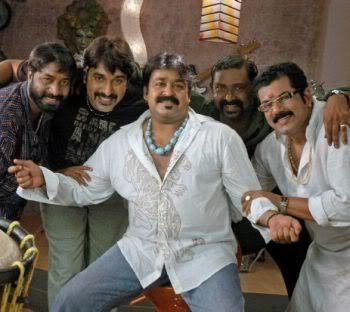 (Cross-posted at Movie Mazaa)
Rock 'n Roll is a blandly orchestrated sonata that repeatedly falls flat amidst refrains that spring up sans vigor or verve. Forget being a musical, this detriment of a film is an affront to the senses that exceeds even your lowest expectations. Fumbling across unsure strains, this is a coarse attempt at artistic symphony that's justly ripped apart by the crudeness of its traits and the impropriety of its attributes.
Chandra Mouli (Mohan Lal) is a drummer of international repute, who like almost any other archetypal Ranjith hero travels across Beunos Aires to Cape Town; from Phnom Penh to Dar Es Salaam to God-alone-knows-where else. Wine and women lie streaked across his vagabond life until he meets Daya Srinivasan (Lakshmi Rai), ace singer, and abruptly realizes that love lies exceptionally entwined with destiny.
It all commences with an extensive tête-à -tête on the frantic human desire to be in idyllic love and ends pretty much there. A progression beyond this initiation never ensues even as a whole lot of worthless bantering that's more malevolent than impish goes on. Mohanlal retraces a few steps with this drummer role; a feeble alteration of the composer that he was in Kizhakkunarum Pakshi, now retuned in a diverse mise-en-scene and a quite repellent one at that. Holding on to what's left of the script crumbs he makes a few frenetic efforts before agonizingly succumbing to the inevitable. There's a whole lot of happening virtually leading to nothing and hence a horde of actors mouthing quite a bit and emoting not a bit.
Perhaps the principal discontent vis-Ã -vis the film that is that you keep hoping for things to get better, but they end up on the contrary even more cluttered than ever. It comes to a point after awhile where you get dead beat sifting through the muddle and stray away; with no far flung intent of a probable return. The liberal bouts of ideologies that Ranjith vehemently endeavors to shove down our ill fated throats serve involuntarily but incredibly well as a laxative; the toilet hilarity has a noxious consequence in that it raises more sneers than grins all around.
It seems a real droll that an author who remains fixated with the celestial brunt of love should pen in lines that are engrossed in insolence; a sloppy compilation of real offensive gags that are never witty and very seldom enthused. A debacle in almost every sense, the screenplay lies rotten somewhere in the thrash cans inexorably breaking way to the pandemonium that gradually ensues. The clamor gets louder and the idiocy even more unendurable and you realize that this is so wrong; so terribly wrong. A couple of appealing tunes by Vidyasagar serve as the only saving grace in this otherwise ghastly hodgepodge even as Bijipal thunders around with the background music often annoyingly raising a raucous hell at the most inopportune of moments.
Rock 'n roll reeks and wails; it neither hips nor hops, but scurries across a host of muffled notes that crassly craft a hideous ambience drenched in tedium and ennui. Inert, unsavory and real grubby, Rock 'n Roll is an exceptional paradigm of filmmaking gone totally off beam and wholly off heart.
(Photo courtesy: hindu.com)