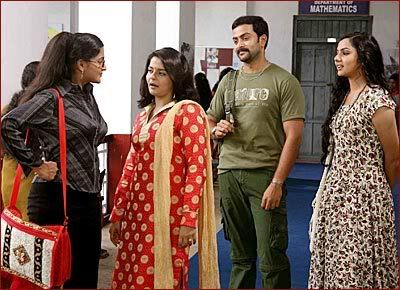 (Cross posted at Movie Mazaa)
Chocolate is as scrumptious as it possibly can get. It's a film that has its target audience chalked out in precise and exact strokes, and as such does a great job catering to its taste. Pretty darn funny at times, and wickedly humorous at others, it definitely won't set new standards in film making, but would remain a true wild entry in the genre.
St.Mary's All Girls'College is set to welcome its first male student Shyam (Prithviraj) amidst loud protests from the PTA authorities as well as a group of tomboyish students headed by Anne (Roma), Nandana (Samvrutha) and Susan (Ramya). It's a war that ends in love as always, with a certain degree of sweetness and charm about it.
The tenor is always buoyant and the characters are immensely adorable and hence it's hard to take offence at the crudest of the jokes. It would seem quite funny that a college film would barely have a shot inside a classroom and that too for the sole purpose of a real raunchy rejoinder. The girls do what they do best – look pretty, all three of them; while Prithviraj finds himself quite at ease being the object of their affection. It's one of those feel-good films where you let your good sense fly out of the exit door and rest assured that everything would turn out perfect in the end.
Despite its pretensions, Chocolate doesn't melt in your mouth and belongs to another family altogether – it's either a sour jelly or a sugary lollipop, I'm not sure which. It's a bizarre film, in that the screenplay plummets deep into illogicalities and the gags are often lewd and downright offensive. The narrative stretches along a faint line of rationality that ultimately breaks and leaves you stranded in a delirium. . Shafi as the man at the helm has a real smart penchant for hit-craft as they call it and the film moves at a lightning pace towards a mirthful finish. Here he is a man with an excessively silly script and nothing much to say. And yet, and this is the most important point, he tremendously entertains.
I loved the peppy songs, regardless of the very outlandish lyrics. Sharath Vayalar and Alex Paul are not at their Classmates' best, but they do help retain the upbeat mood right through. Azhakappan's camera is sharp and swank as it swishes up and down the campus contours with style and some real snappy editing by Lokanathan ensures that it's all crisp as a crunchy bite that's really worth a nibble.
Chocolate is in no mood to lay itself down on a platter for a critical scrutiny, I agree. It doesn't merit an elaborate analysis either. However, even a faint mark with an inquisitive scalpel would reveal chauvinism at its extreme in almost all the guffaws that it offers. Unintentional perhaps, but awful nevertheless. But then as someone said, there's no moral here, just a lot of stuff happening.
Shafi's Chocolate is a syrupy concoction all right; if you happen to be an aficionado of sugar, delve right into it.
Photo courtesy:rediff.com