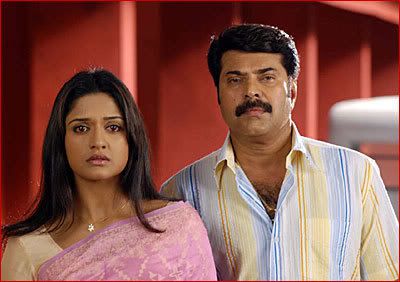 ( Movie Mazaa is our new guest contributor who will be doing reviews of the latest films)
Ranjith has this ability to spring the nastiest surprises on an unwary audience time and again. Armed up with ace-director Joshiy he cooks up Nasrani, a twitchy and jittery film that is at its best ambitious and at its worst lethally amateurish.
David John Kottarathil (Mammootty) is an affluent planter who languishes his time wooing Sarah (Vimala Raman) and running a gambler's den. He's indeed the archetypal Ranjith hero with all the integrity surging out from within, and yet who maintains a coarse façade that's supposedly the definitive masculine trait. A local politician gets murdered eventually and Annie, (Muktha George) David's foster-daughter emerges the prime accused. And what does all this perplexity lead to? Practically nothing, as it sadly turns out.
Nasrani isn't really sure if it wants to be a superstar melodrama or an exhilarating thriller and its unfulfilling as either and ends up as an appalling hybrid. While the first half of the movie is elaborate with too many suspects and frail motives, the second half is wiped clean of any suspense as the tale slowly builds to a real mundane climax. The answers to the questions turn out to be sillier than the queries themselves. And of course the gaping plot holes, the never ending array of characters and the ludicrous dialogues cannot be forgotten in a hurry as well. For many of us the sole reason for watching Nasrani, would be to find out if Mammootty reworks the Achayan magic. Sadly he doesn't, for even as a star vehicle, the movie is a dud. The actor is hazily considerate in his part and doesn't emabarass himself. But the only time he comes alive is a handful of moments that fade away as quickly as they have made an appearance.
The script doesn't make a convincing holder for the prime event of the day namely the murder, nor does Joshiy manage to string the beads up as a rational whole. July 4 and now Nasrani show the plight of a director at the low ebb of inventiveness as the finale unveils a ludicrous howler of a twist ending. The plot grows increasingly absurd, particularly towards the end when the characters no longer seem to be themselves. Just when things should be getting intriguing and complex, they become repetitive and computable. And the house of cards come crashing down with a thud.
Nasrani is an unengaging and colossally flat film that gets plain irksome after a while. It displays a horrific disparity of author and material that is maddeningly convoluted. And when the curiosity wave subsides, it should start its sinking into oblivion.
Photo courtesy:rediff.com