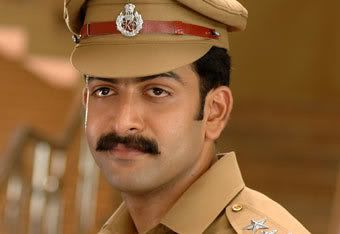 Khaki draws mixed reviews from reviewers. Debutant director Bipin Prabhakar seems to have done a decent job.
T A Shahid's story shows influences from his previous works like Baletten and Rajamanikam. The father played by Nedumudi Venu is a case in the point, though not well etched out here.

Prithviraj does his role as an accomplished pro with ease. Mukesh's supporting role as a butt of jokes is strikingly similar to that of the character he played in Vinodayathra.

Leading lady Manasa's presence as a television journalist is not justified. She hardly gets a few minutes of screen time. Similarly, Meera Vasudevan's role as the wife of Ramakrishnan is ornamental.On the whole, this Khaki requires a little starching to make it stiffer.
Director Bipin Prabhakar has chosen the story of a tough cop who has to go through some turbulent times both in his personal life and career, for his debut movie, Khaki. Scripted by T.A.Shahid who has some big hits like 'Balettan' and 'Rajamanikyam' to his credit, 'Khakee' never moves away from expected lines and have not much surprises in store for the viewer.

Perhaps, since Prithviraj has put on the khaki uniform of an inspector in films like 'Sathyam' and 'Vargam' in recent years; the makers have tried to bring in family sentiments too to the story. In the end, that confusion of whether to present the film as a police story or as a family drama seems to have affected Khaki to a great extent. It is neither here nor there!
Khaki is no doubt a good film when we consider that it comes from a debutante director. But reviewing a film as a work of art requires overlooking such factors and appraising it in isolation. And when we look at Khaki as a film, the impression it creates is mixed with pluses and minuses.

Scripted by T.A. Shahid, Khaki has a good storyline and a rather well-written script. The film focuses primarily on two brothers, Ramakrishnan and Unnikrishnan. While Ramakrishnan is a Head Constable, Unnikrishnan is a Sub Inspector. For Ramakrishnan, who is the elder of the two, his job is a means to look after his family and it is by dint of his job that he managed to educate Unnikrishnan and their sister Meenakshi.
'Khaki' is a well made film from a debutante director, Bibin Prabhakar. The film has all the elements to make it a better hit. It has a neatly laid out plot, well written dialogues, punching sequences, good action and family sentiments. Even though the film has all in a little overdoses, this is the one which really don't bore you too much. The film is typically made in a much tried and tested commercial plot which caters to every section of audience. And the rest of its performance in box office largely lies in the crowd pulling capacity of Prithviraj as a hero. That is, the film is a test of his popularity.
 
The only novelty in Khaki is that despite having action star Prithviraj, young film maker resists from big action episodes by relying more on 'cerebral conflicts' between  his character and his family.  The film focuses primarily on two brothers of the Padathu family, Ramakrishnan and Unnikrishnan, both working with the police department.  Ramakrishnan, a Head Constable, nicknamed as 'the spineless police',  considers his job as a means to look after his family and it is by his seventeen year service in the department , that he managed to educate Unnikrishnan and their sister Meenakshi. His younger brother Unnikrishnan (Prithviraj) a Sub Inspector is just opposite to him, being is an idealist and gutsy to the point of being reckless, taking on everything bad in the society from Kanjavu Mafia to video pirates and sex racketeers.
 
blockquote>