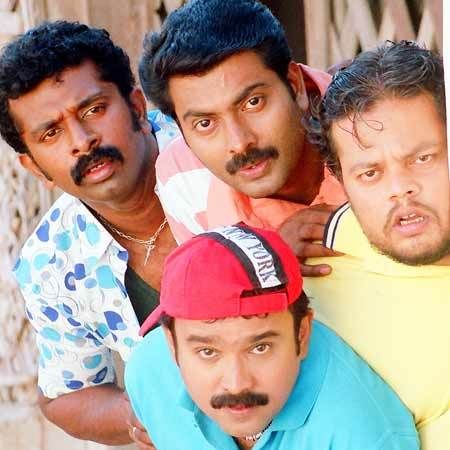 We were very curious about Lal Creation's Vishu release, as it was touted to be the movie to take on superstar releases. As we wrote in our preview and as per all the reviewers, the story didn't seem to offer anything new. Narain receives positive feedback in all the reviews for his performance.
If you think that the story has come on screen several times earlier, there lies the problem with Panthayakozhi. Even the villain, a typical Gounder, who in our films are always the rich, brash, rural chieftains and has the whole village waiting for his commands, seems to have come straight out of some old flicks. Again, the mother clad in a white saree who can prompt the hero to thrash the baddies with some hard hitting dialogues remind you of Rakhee or Nirupa Roy doing the same in umpteen Bollywood films.

With item numbers becoming an accepted ingredient in Malayalam films these days, it could be natural for the hero to rush to a dance bar, when he is in anguish! There are four songs in the film, tuned by Alex Paul with Karimbanude Naatil… being the pick of the lot. Pallaseri has rehashed some of his earlier dialogues. Narain as Nandagopal is terrific, and has the potential to be a full fledged action hero. Pooja has hardly any chance to emote other than looking good in songs.
Once upon a time, Malayalam cinema was the story hub for South Indian films but now the trend has changed so dramatically that we see Malayalam directors taking up decade-old stories from other languages, all in search of that elusive hit.

Panthayakozhi, directed by M A Venu and starring Narain, is one such attempt where gory fights end with chopped limbs and songs popping up at regular intervals.

This is the story of a happy-go-lucky man, Nandu (Narain) thrown into a situation that changes his life: conflicts he has to overcome, falling in love and fighting for his mother and sister. But in the midst of all of this, he also finds time to dance!
Lal Creations' Vishu offering Pandhaya Kozhi belongs only to Narain, who after many acquaintances in Tamil has matured into a dependable actor.

In the film he creates laughter, he spreads innocence, cries louder and throw his legs to a couple of dances and make some best fight sequences. What more do you expect to honor him as a convincing hero? 

Pandhaya Kozhi is all about a young man, Nandagopal played by Narain who is flocked around by a lot of problems and responsibilities
Picture courtesy: sify.com