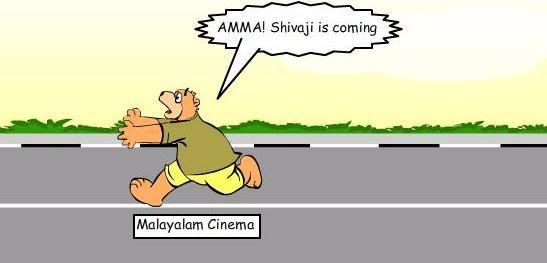 An underworld bodyguard who returns to his home, a youngster who goes to Tamil Nadu to sell a house, a man who wants to take life easy, a bunch of conmen based in Kochi, and a kid who is a mathematical wizard. These are the people coming to entertain us this Vishu season which is one of the most exciting times for Malayalam Cinema in recent times. At stake is Rs. 10 crore.
Three time National Award winner Mammotty is acting as a Mumbai underworld body guard who returns back home to Kerala in Amal Neerad's debut film Big-B. In this movie former Miss India, Nafisa Ali, who is younger to Mammotty plays his mother. Two time National Award winner Mohanlal makes an avatar as Vasco, a small time crook who makes his living by swindling foreign tourists in Anwar Rasheed's Chotta Mumbai and Bhavana who is about half his age, plays his heroine. In Vinodayatra, Dileep acts as the hero for the first time in a Sathyan Anthikkad movie which takes a humorous look at the life of a Malayali who does not want to work hard and have an easy life.
Director Vinayan, who as if he read varnachitram.com's lament about the lack of good children's movies tries a children's movie this time. Athisayan, a science thriller, stars Kavya Madhavan and Master Devadas and has the added attraction of a cameo by Jackie Shroff. Lal Creations, one of the biggest producers in Kerala is placing their bets on Sunil aka Narein and promoting him as an action hero in the movie Panthaya Kozhi.
It is not going to be an easy ride for these films and there are some obstacles on the path and lack of theatres is one of them. For his film Panthaya Kozhi, producer Lal has booked some of the best theatres in Kerala and thus the superstars will have to be content with what is left.
Then all these films with our superstars and lesser stars and asteroids have to face something big – a cosmic black hole from which even light cannot escape called Shivaji. This electrifying combination of Director Shankar, Rajnikanth and A R Rahman is releasing in Kerala with about 60 prints and Johnny Sagarika bought the rights of the film for Rs. 3 Crore, which is the cost of making three Kalabhavan Mani movies.
People are going to vote with their wallets this Vishu season and it is tough to predict who will survive this season and who will explode like Vishu crackers.