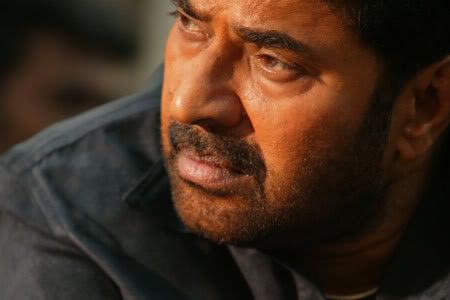 Mammootty continues with his Jekyl and Hyde behaviour. After the back to back releases of three 'meaningful' movies (Karutha Pakshigal, Palunku and Kaiyyoppu) he's playing to the gallery. First Mayavi, which is doing a roaring business even now and now Big B.
Mary John Kurisingal is a teacher and a social worker. She has four adopted children. Though they come from four different religious backgrounds, all add the suffix John Kurisingal to their names. Bilal is one of the four children. He grows up to be a person with steely determination who fears nobody and nothing. One fine day Bilal leaves his home town of Kochi and moves to Mumbai, where he becomes the trusted body guard of underworld dons. After a time however, he decides to call it quits and return to Kochi. But what he finds on his return is not what he had expected. [Big B]
For Big B, Amal Neerad is donning director's mantle. His background is in cinematography and was Ram Gopal Varma's favourite cinematographer (He was the cameraman in movies like Shiva, Darna Zaroori hai and James). He was also the cinematographer for Ranjith's Mammootty starrer Black. Amal wrote the story and screenplay as well. Going by Mammootty's knack of giving break for talented new comers ( Lal Jose in Maravathoor Kanavu and Blessy in Kazhcha, Anwar Rasheed in Raja Manickyam) we are hopeful that Malayalam would get another talented director.
After Usha Uthup. it's former Miss India Nafisa Ali's turn to act as Mammootty's mom (Incidentally, Nafisa Ali is 4 years younger than Mammootty). Mamtha Mohandas appears as female lead. Others in the cast include Manoj K Jayan, Innocent, Vijayaraghavan, Manianpilla Raju, Pasupathy, Sumit Naval, Vinayakan, Manasa, Lena, Bala.
A first time in Malayalam movies, Big B would be made in Digital Intermediate format. Big B is being touted as an action thriller, which is a rare occurence in Malayalam and it promises action, style, underworld and a designer mom.
PS: It's as if some one disciplined a truant child, Mammotty's next release would be another art house movie – Ore Kadal.
Photo courtesy : sify.com