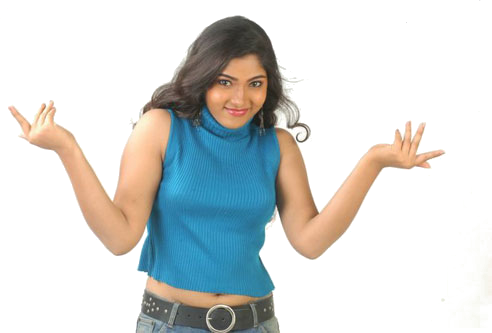 Recently the rule for heroines was like this: Act in a few Malayalam movies when you are in school, and by the time you reach college you find that you get peanuts for salary and the best offer you can get is as the inconsequential heroine of Prithviraj or Dileep. Then you jump to Tamil movies and if possible to Telugu. Then once in a while, when Mahabali visits Kerala for Onam, tag along with him and act in a few movies so that your parents and friends don't forget you. Gopika and Bhavana are examples of this.
Now things have changed. Heroines don't even wait to establish themselves in Malayalam. Mukta George caught everyones attention playing the role of Lisamma in the heart wrenching film Achanurangatha Veedu and before trying her luck in other Malayalam movies, has moved into Tamil. She is now Bhanu and is the heroine of the new film 'Thaamirabharani' directed by Hari of Sami. She has also acted in a Telugu movie named Photo.
Apparently some people think she looks like another Kerala export, Nayantara.
"Many people have told me that, but she is very different from me. I will work hard towards making a name for myself." [Nayantara and I are different – Bhanu ]
Looking at the pictures of Thaamirabharani and Photo, Mukta seems to be following the illustrious path carved by her predecessor Nayantara, who did not have any constraints on the type of dresses to be worn. Like Nayantara she too is ambitious.
I am even more eager to act with Rajini sir. Now the seats of the 2 dream girls Simran and Jyotika are vacant. I would like to occupy that seat," she says with dreams in her eyes. [Nayantara and I are different – Bhanu ]
We get lot of hits on our website for Nayantara, but they are mostly for her pictures with Simbu. We hope Mukta/Bhanu, who is now filming for Director Kamal's Goal, will be known more for her acting.