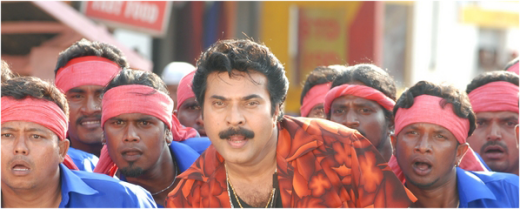 Shobha Warrier of Rediff, who usually writes decent articles has come up with an article filled with speculation, guess work and use of vivid imagination. She wonders why would Mammotty, the winner of 3 National Awards and 7 State Awards act in silly and commercial films?
The answer, Shobha, is that he is an actor. He never said that he will act only in Award Winning artistic movies. As an actor you have to act in all types of roles, all way from Mathilukal to Mayavi. The fact that he won so many awards should not be held against him and should not restrict him to the kind of movies he does. Going by your logic, Yesudas should not be singing songs like Padakali, and Chitra should not be singing Penne Penne from Meesa Madhavan.
We are not big fans of his movies like Rajamanikyam or Thuruppugulan and we probably would make fun of his dancing abilities, but we would not suggest what he should do.
Mammotty's latest movie, Mayavi is a success and so Shobha concludes that he has given up on meaningful cinema. Actually we would like to know what "meaningful cinema" is, but let us take a big assumption here and make a statement that she probably means non-Mayavi type movies. Actually Shobha could have looked at the line up of Mammotty's movies for 2007 and she would have seen Ore Kadal by Shyama Prasad and Pazhassi Raja to be directed by Hariharan and written by M.T.Vasudevan Nair. But then if you have already made a judgement what can a few facts do to alter that?
Then comes the killer statement.
The fact that he lost to Prithviraj for Best Actor may have contributed to this decision. Many were shocked when an 'enlightened' jury of the Kerala State film awards committee chose to give the award to Prithviraj for Vaasthavam while ignoring Mammootty's roles in Karutha Pakshikal, Kaiyoppu and Palunku.
The 2006 State Awards were declared last week and so within the past five days did Mammotty inform Shobha Warrier that he is giving up "meaningful" cinema? Also if you look at the 2006 State Awards, it is not that Mammotty "lost" to Prithviraj. As we have discussed, Mammotty, Murali and Suresh Gopi were not considered for the awards because some aliens beamed plasma rays into the brains of the jury. So Prithviraj was essentially competing against Sreenivasan, not Mammotty.
We hope the editors of Rediff will stop Ms. Warrier from publishing fiction in the name of journalism.