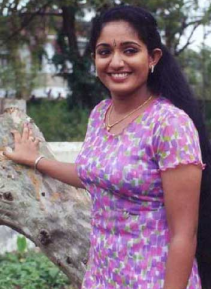 Three important things happened for [tag]Kavya Madhavan[/tag], the winner of the Only Malayalee Actress who can speak Malayalam award in 2006.
It is tough to say no to money, especially if someone says they are willing to pay 10 times what you are getting now. Kavya could have made lot of money if she switched to Tamil movies, and our first point is that she did not. [tag]Bhavana[/tag] is getting paid Rs. 20 Lakhs in Tamil, while she was getting paid Rs. 2 Lakhs in Malayalam. Even little Mukta George who acted in Achanurangatha Veedu has changed her name to Bhanu and is acting in Tamil.
It is not that she lacks ambition. She has never said no to Tamil or Telugu movies. In fact she goes one step ahead and says she wants to act in English movies. We are impressed with her confidence, but wonder how a girl who in the best possible times is not acting in any Tamil or Telugu movie is going to act in an English movie?
Earlier a Sheela or Sharada or Seema acted in hundreds of movies. Now all the new comers act in a few movies, get married and retire, like [tag]Parvathy[/tag], [tag]Manju Warrier[/tag] or Annie. In such times she completed 50 movies in Malayalam with Chakkaramuthu (a.k.a [tag]Chakkarapottan[/tag])
Besides this landmark which is our second point, she also was the actress in the most movies last year though she faced tough competition from Gopika and Padma Priya. She danced in New Zealand in Lion, acted crazy in the stupid movie called [tag]Kilukkam Kilukilukkam[/tag], had short roles in [tag]Vasthavam[/tag] and [tag]Vadakkumnathan[/tag] and was the heroine of [tag]Classmates[/tag].
Right now it would be an understatement to say that Malayalam Cinema is facing a crisis. There is lack of good scripts, theatres are closing down and even movies with Superstars are not pulling in the crowd. In such conditions she was the heroine or one of the members of the ensemble cast of the biggest blockbuster in Malayalam cinema history. Our third point is that this movie increases and reinforces her bankability as a heroine in Malayalam Cinema.
Add to: | Technorati | Digg | del.icio.us | Yahoo | BlinkList | Spurl | reddit | Furl |