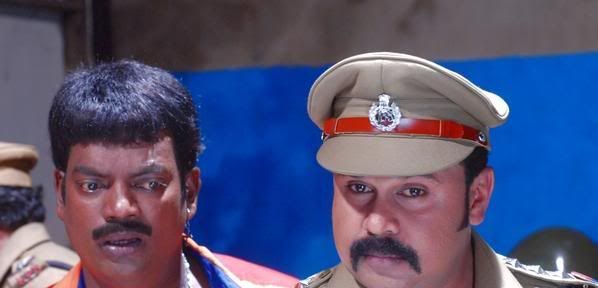 Things have gotten so low that now people are comparing this film to CID Moosa and Kochirajavu as if they were gold standards for entertainment. Only the folks from India Glitz seems to have liked this movie, while others think it is neither original nor entertaining.
The whacko police officer, loud, odious and over bearing, is penciled to perfection by Dileep; yet its a fact that Garud is Meesha Madhavan's poor cousin, though they have swapped roles for a change. Kavya ghost walks through her stiff task and Vijayaraghavan is sheer annoying sporting a pout. Alex Paul persists on the thunderous percussion and Dileep's seduction number would make the likes of Helen run for cover. Well, the less said the better.

An exhaustive analysis, as you see, is hence unfeasible. It's neither keenly expected nor entirely desirable. Because any honest endeavor to scrutinize this new age hero's psyche, would raise much more laughter than the film itself, for sure. It remains to be seen, if this chaotic mayhem invites much deserved wrath or loud guffaws, but categorically points to the sluggish emergence of a new breed of atrocious films that pass on under the guise of harmless labels as slapstick and farce, while in actuality being an absolute slur on both. An awful assault on the intelligence, an inexcusable insult to the commonest of sense and an appalling offense to the most ordinary of emotions, this is tactless cinema at its crappiest worst.

May my busted brain Rest in Peace.
Watched yet another useless Malayalam film today, at Mas theatre – Dileep's latest comedy, Inspector Garud. Dileep appears as a very corrupt police officer in the film, who of course becomes "good" towards the end. All the characters in the film (except for the main character, to some extent) are stereotypes – starting from Vijayaraghavan giving yet another school-boyish performance as the villain, to small roles like that of Meena Ganesh (I am not sure whether that is the name of the actress) coming as the "Vanitha Commission" member for the Nth time on screen (May be her name should be entered in Guinness Book). Dileep has tried hard to make the audience laugh in a kind of role which he is so familiar with, but he couldn't achieve much with such a patchwork of an idiotic script.
When you go to see the Dileep-starrer Inspector Garud directed by Johny Antony, you'd expect another film like CID Moosa or Kochiraajaavu. And that is what Inspector Garud doesn't happen to be. For Dileep fans and for fans of Johny Antony (the director of such roaring hits as CID Moosa, Kochiraajaavu and Thuruppugulaan) the film is a disappointment. At the end of it, you feel all wasted and that justifies the booing that could be heard towards the end of the film on the first day itself.

The way the song "Kannum chimmi chimmi…" has been visualized reminds you of the Tamil song "Kicku eruthey…" in the Rajnikanth starrer Padayappa and even Dileep seems to imitate the Tamil superstar. Scenarists Udayakrishna and Sibi K. Thomas and director Johny Antony should have packaged the film better, adding more humour and comedy, because that is what people seem to have expected.
The film certainly doesn't disappoint, even if it doesn't match the expectations, if you are with something high. The ethics of the characters in the film could be of a questionable nature, had it been taken too seriously. But that is exactly what Johny Antony steers clear of. He makes a light joke out of everyone and everything.

This is a Dileep film that registers him in a new getup, lives the role, conveying the right amount of mischief and keeping his infectious laughter till the very end. He reiterates his status of a crowd pulling star and steals the show with a designer-made role.
The comedy team- writers Udayakrishnan & Sibi K.Thomas, director Johnny Antony and Dileep are back with yet another slapstick comedy for the masses with large dose of crude and inane jokes. They believe that no joke is too low to be cracked as long as there is an audience for it.

Another problem is that Inspector Gurud does not have a single original bone in its body. Typical of Johnny Antony, generous tributes have been paid off to a dozen Kollywood and Bollywood films. One of the songs in which Dileep dresses in a suit is a straight lift from Rajni hit song Kick Eeruthe.. from Padayappa. For Dileep, playing the title role comes naturally to him and he excels in slapstick madness. But his pairing with Kavya is a bit stale.

If crude gags and slapsticks galore are your idea of fun then Inspector Garud is worth a laugh.