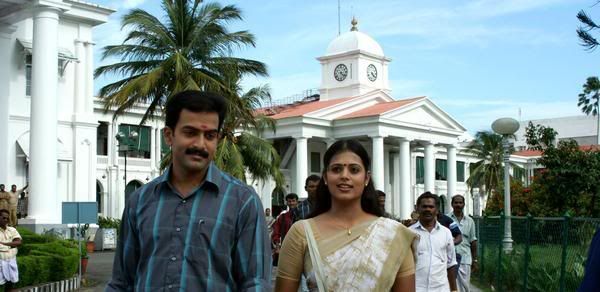 In one of the most powerful scenes  in Vaasthavam we see  Unnithan(Jagathi) and Balachandran(Prithviraj) dividing five lakh rupees in hundreds of envelopes.  This is the money for bribing various individuals in state secretariat to get approval for a factory. In this occasion  Unnithan waxes eloquent about power of envelope and its place in democracy. This scene defines the movie.
Balachandran Adiga, is a member of a poor Brahmin family, son of an idealistic communist leader.  It's Balachandran's responsibility to marry off his sisters and get his family out of poverty. Balachandran's job as priest in local temple and his sister Subha's (Usha) tailoring is not enough to see them off from this desperate situation. Meanwhile Subha is in love with a local adivasi leader, and the whole family is against this as he's of a different caste. Balachandran is in love with his cousin Sumitra(Kavya Madhavan), an affair both families approve.
At this juncture Thruppan Namboodiri(Salim Kumar)Â appears with an offer of arranging a job for Balachandran in state secretariat if Balachandran marries his niece Surabhi(Samvrutha Sunil). Balachandran is against this alliance. Sumitra, in order save Balachandran and his family decides to sacrifice her love. She asks Balachandran to take up Thruppan Namboodiri's offer.
Balachandran marries Surabhi, and on the night of the marriage Subha elopes with Sreedharan, the adivasi leader. Heartbroken, Balachandran's mother dies. After the funeral Balachandran leaves for Thiruvananthapuram to take up his job in secretariat.
And all this happens before the titles are shown!
In the secretariat, under the tutelage of Unnithan, Balachandran learns the lessons in corruption. Unnithan is a veteran in secretariat, has spend his whole life in that place. He is well versed in navigating the intricate bureaucracy and has no principles when it comes to accepting bribes. He considers and accepts corruption as a way of life in  secretariat. Balachandran who arrives at Thiruvananthapuram, with a strong resolve of leaving his past life behind accepts Unnithan as a moral guide.
Thruppan Namboodiri had arranged this job for Balachandran with the intention of having his own man in secreatriat. He had invested crores in a ceramic factory in Kasargod, the approval of which is stuck deep in bureaucratic jungle. He hopes that Balachandran will be able to get approval for this factory.  It was for this purpose the five lakh rupees, supplied by Thruppan, was distributed.
Balachandran hides the fact that he's married from everyone. He gets close to Vimala Thankachi(Sindhu Menon), a colleague, who is a divorcee. Vimala is niece of Pattom Raveendran(Murali), a politician. With encouragement from Unnithan, Balachandran gets closer to Vimala. When Pattom Raveendran becomes minister, Balachandran uses Vimala to become a member of minister's personal staff.  Balachandran never looks back from this point. Using clever machinations, with the help of minister's wife Radhamani(Sona Nair) and with help of goondas, Balachandran becomes all powerful and rich. He becomes more powerful than the minister himself and becomes the ultimate bureaucrat controlling all aspects of administration.
Balachandran's personal life is in shambles. He ignores Surabhi his wife and she lives in his house in Kasargod. Vimala Thankaci is used and forgotten. Sumitra got married to Sasidharan Pillai(Meghanathan), a policeman, who makes her life a living hell because of her past relationship. Balachandran gets Sasidharan Pillai transferred to Thiruvananthapuram as minister's gunman with the intention of meeting up with Sumitra again. Thruppan Namboodiri never gets his factory approved as there is another powerful industrial group attempting to set up a factory in the same place.  Bankrupt Thruppan follows and begs Balachandran to help him get approval for the factory. Balachandran offers to pay back his share from the  from five lakhs distributed as bribe – which is fifty thousand rupees!
Rest of the story shows the depth into which a morally bankrupt Balachandran has fallen and his attempts at salvation.  The story by Babu Janardhanan moves at brisk pace. The writer attempts to tell so many things in the brief duration of this movie and often leaves many things unexplained, for example Balachandran's meteoric and mysterious rise as minister's personal staff is not properly explained.  But the writer is successful in realistic depiction of corrupt bureaucracy in Kerala, the starkness of which leaves the viewer riveted.
Prithviraj as Balachandran tries to keep up with the pace of the movie and delivers a good performance. His brooding intensity adds to the dark mood of the movie. Â Jagathi as seventy year old Unnithan delivers most commendable performance, he lives in that role. Salimkumar as Thruppan namboothiri gets a break from his usual buffoonery and displays his talents. All the heroines, though short, has significant roles, a rarity in todays malayalam cinema. Kavya as silently suffering Sumitra, does justice to the role. Samvrutha as Surabhi has the shortest role of the three heroines, but shows why she's rated as a good actress. Other notable performances are from Jagadeesh as Shibhu Vattapara and Murali as Pattom Raveendran.
Director Padmakumar keeps the proceedings under tight control and extracts good performances from all the actors. The story is told in a very straighfoward manner, without many parallel threads.. Manoj Pillai's photography, gives a grey tone to movie, Â adds to the dark mood of the movie. Alex Paul's music is excellent with good songs, Arappavan Ponnu being the best song.
Feedblitz readers click here to comment.