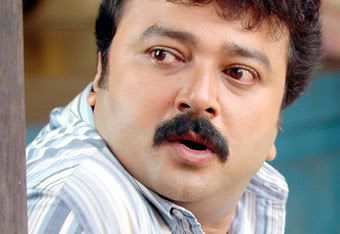 Anjil Oral Arjunan follows the fate of other recently released Jayaram movies. None of the reviews were favourable. The actors career is at crossroads.
What do you call a film that is well made, in terms of cinematic features, but still doesn't touch your heart?

A film that has absorbing sequences but still doesn't entertain? Anchil Oral Arjunan is such a film which makes a sincere effort to unveil a regular story, with almost all the ingredients that make for a Jayaram-film.
More bad news for Jayaram fans. His films are getting from bad to worse. They have the same hackneyed storyline, scenes and look the same with nothing new in it. And to put it mildly, Jayaram should stop getting saddled with such asinine and dumb roles.

Anchil Oraal Arjunan is no different from the so many other listless boring Jayaram films we have seen recently. Anil of the earlier Anil-Babu team along with script writer T.A Razak has borrowed scenes from half-a-dozen earlier films of Mammooty and Jayaram himself and stitched together the script of this stupid film.
Attempting an honest review of the Anil-directed Jayaram-starrer Anchil Oraal Arjunan is not easy. It's well made, is quite convincing, and has many of the ingredients that make for a Jayaram-film or a film directed by Anil. But still the question as to whether the film entertains you or touches you in some manner or whether you carry even an iota of it once you leave the theatre remains answered. And if at all the question is answered, it would probably be in the negative. In total this is a well-made film that could very well have been avoided. You are going to miss absolutely nothing by missing out on this one.
Photo Courtesy : Sify.com