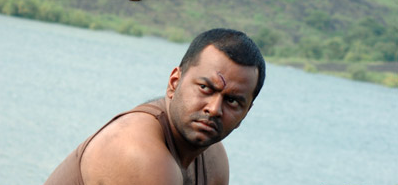 While we lament about the lack of young heroes in Malayalam, it is refreshing to see some producers actually making movies with youngsters like Prithviraj, Indrajith and Naren. After the success of Classmates, now each one of them is trying their own thing. This movie stars Indrajith in a role different from the ones in Meesha Madhavan, Mizhi Randilum and Classmates.
Vinoo Anand, the debutant director, has done a good job with his first attempt in Malluwood. The movie, though not a typical entertainer, will definitely hold you in the seats till the end.
After acting out brilliantly the character of Payas in Classmates Indrajeet, once again shows why he is here to dominate the screen. He in the film is Shivan, who has committed some murder under pathetic circumstances and turns out to be a pshychopath ladykiller.
The film's script by Reggie Nair is unconventional, even though the climax of the film fall off to cliches. The flashback even though narrated well, don't make you feel much sufficient for the protagonist to become a psychopath.

Jiboo Jacob wielding the camera creates one of his best with the great exteriors Of Vadakkanchery. The film also has a few good songs by Vayalar Sarathchandravarma set to music by Ouseppachan.

The background scores and slick editing adds to the racy nature of the film. Even though brilliant works in all departments makes the film worth a watch, Oruvan does evoke a sigh, it does not moisten your eyes, or create sympathy for its characters. And therein lies its slight drawback.
Indrajith as Sivan does his job excellently. Lal as Bharathan too does justice to his role. But Meera Vasudev doesn't seem comfortable in her role as Jaya, Bharathan's wife. Prithviraj as the young police officer Jeevan is his usual self, while all others in the cast are OK. Of the songs, "Kuyilukale…" and "Kannipenney…" jell with the subject and have been shot rather well. Jibu Jacob's cinematography is good. Ranjan Abraham has rendered able support with his editing and so has Joseph Nellickal with his art-work. Reji Nair's script too is good.

But there still is something lacking that makes the film an average one, though well-made. That something perhaps concerns the pace of the film or its setting and packaging. Be that as it may, director Vinu Anand and his team must be appreciated for having ventured to make a rather different kind of a movie with a very striking end, and that too in a fairly good manner for a maiden venture.