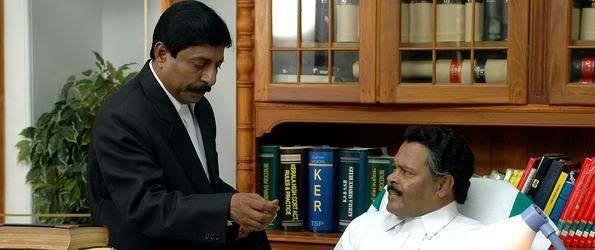 Amidst the hullabaloo of superstar releases, this one almost flew under the radar. Most of the reviewers give good marks to this movie. And all of them are unanimous and delighted about Srinivasan's performance.
Sreenivasan, who rose to great heights with his subtle but different acting talents, is back on the show.

After being with not so commendable roles in recent flicks like Prajapthi, Bhargavacharitham and Balram, Sreenivasan is back to his strengths in the latest flick in which he playing the lead Yes Your Honour. Those who love the satirical Sreeni films please don't give this a miss, as here is your favorite actor in his all intensity.
Yes Your Honour, which comes from one of the most reputed producers of Malayalam Cinema, P.V. Gangadharan of Grihalakshmi Productions and is directed by V.M. Vinu of Balettan fame, is an enjoyable film that reiterates the importance and relevance of moral values in today's world.

Ravi Shankar, a law graduate worked as an assistant to senior advocate Venugopal, who had his hands full of cases. Ravi Shankar is an idealist and joined the legal profession to be of service to society. His shrewd observations on various aspects of a case and his thorough understanding of the nuances of law provided the perfect inputs for Venugopal. But the latter always took the credit, habitually degraded Ravi Shankar and treated him more like a domestic servant than as a legal practitioner. He is never given a chance to appear in any case.
Try out Yes Your Honour, one of the better comedies of the year. Sreenivasan-Innocent combo brings to the screen a refreshing new chemistry that works. What makes the film a laugh riot is veteran writer T.Damodaran's script which has been told in a humourous manner by director V.M.Vinu. Adding pep is the lead characters as lawyers who are always going for each other in a typical Tom & Jerry style of upmanship.

Ravishankar ( Sreenivasan) is a law graduate practicing as junior to a leading lawyer Venugopal (Innocent) for the last 12 years. Venugopal treats him like menial servant in his house, who looks after his pet dogs and has never entrusted him with a court case. Venugopal is a ruthless and unscrupulous lawyer whose main job is protecting an ex-minister John Varghese (Sai Kumar) involved in a sex scandal and Mustafa (Ramu) his partner in business and crime.

Ravishankar is an honest and upright man whose wife Maya (Padmapriya) fights for women cause. One day Ravi is humiliated by Venugopal to such an extent that he beats him up and leaves him. Due to the support of Judge Mukundan (Thilakan), Ravi gets a new lease of life as a public prosecutor. The first case that Ravi handles is the mysterious murder of DFO Sarah Shetty and he has to cross swords with Venugopal who is trying to protect John Varghese by manufacturing evidences! All this leads to a big twist in the climax.
It is heartening to see Sreenivasan in a lead role after a long time in the Malayalam film, Yes Your Honour. It is also heartening to see the treatment given to his character.

We are treated with typical Sreenivasan humour at the start. But later, it turns into a political thriller with the hero grappling with every issue hogging the media in recent times from hawala money rackets to a sex scandal involving an ex-minister and the smuggling of sandalwood from forests to factories owned by the same ex-minister played by Sai Kumar.

Sreenivasan is a struggling junior lawyer finding it difficult to make ends meet, with a wife and a child. He has to face an exploitative boss Venugopal (Innocent) who doesn't give him the respect he deserves and makes him do jobs like helping his wife in the kitchen, taking the sick dog to the hospital and bring the lunchbox to the court for him.