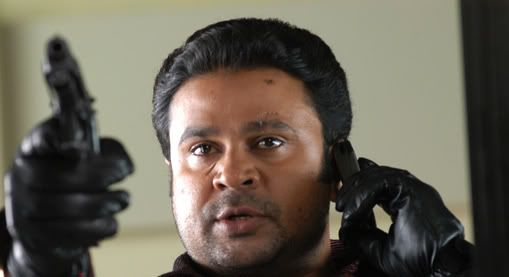 Vijayakrishnan (Dileep) one day discovers that he is the illegitimate son of Krishnadaas IPS (Sai Kumar). When Krishnadas suffers a heart attack, he calls Vijayakrishnan and his mother and bestows all his wealth to them. This does not go well with the Police Commissioner (Vijayaraghavan) and his cronies (Bheeman Raghu, Babu Raj). They burn Vijayakrishnan's mother to death in front of his eyes and beats him to death. He survives and his only goal is to take revenge on the criminals. How he does it forms the basis of the movie.
It has been a while since we saw a revenge movie and were thrilled to see a good premise being setup. We were eager to see how Dileep would execute his plans. That is when script writers Sibi K. Thomas and Uday Krishna decided to ruin the movie by removing all elements of suspense. Remember that famous full toss ball that Chetan Sharma bowled to Javed Miandad. Imagine if someone told you beforehand that Miandad would hit it for a sixer. It is exactly that the script writers have done in this movie.
Once Dileep recovers from the hospital, he acts blind. In fact he tells us that he is going to act blind. So there goes one suspense out of the window. Then he calls up each of the criminals and informs them that he is going to kill them. Then he kills them. There is absolutely no novelty in his revenge. There is not even a bit of cleverness in any of his activities, nor any surprises.
Since we all know that Dileep does not have a physically imposing physique like Suresh Gopi or Mammotty, we assumed that his character in the movie would use his brains for revenge like what Kamal Hassan did in Chanakyan. In this movie, he ends up beating up the villains and sometimes many of them. When you see Dileep beating Bheeman Raghu then you know it is time to laugh.
Oh, we forgot to mention that there are other people too in the movie. There is Bhavana who plays a doctor, Ashish Vidyarthi who plays a cop out to catch Vijayakrishnan, Jagathy Sreekumar who plays a friendly cop and Kalasala Babu who plays a doctor. Some of these characters like Bhavana and Kalasala Babu walk in and out of the movie like tourists in a Railway Station. Some characters like Jagathy and Ashish Vidyarthi compete to win the award for the most cliched character.
This movie would have been interesting, if instead of revealing everything in the begining, almost everything was supressed. It would have been great it Dileep acted as a blind man till the climax without revealing that he was only acting. It would have been better if his motive was revealed much later. It would have been better if the movie was told from Ashish Vidyarthi's point of view, where he sees some murders and finally narrows it down to this blind man. Anything would have been better than this bland linear narration.
This is an all out Dileep movie without much comedy. He does a decent job acting as the revenge seeking Vijayakrishnan with a change of look. The happy Vijayakrishnan wore normal shirts and pants, while the revenge seeker wears jackets, does not shave and speaks with the bass turned on. While director Raj Babu paid lot of attention to Dileep's character, not much was done to make any of the villains interesting and there in lies the movie's failure.
In an interview with us Udaykrishna and Sibi Thomas said "Chess is a revenge movie. Still it has been made very pleasant. Even when someone is shot in the movie, the viewer is not shocked, but relaxed". In this movie we get to see woman being burned alive, a man being suffocated to death and many more shot in the head. You probably can relax seeing all these, if you grew up in one of the Communist concentration camps in Siberia or Vietnam.
This movie could have been made exciting, but sadly it fails.