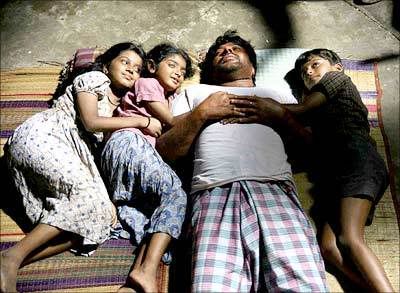 After tickling our laughing bones with such entertainers like Pachakuthira and Thuruppu Gulan, both Mammotty and Kamal have regained sanity. They have decided to make cinema and that too serious ones with a topping of melancholy.
  
Karutha Pakshikal showcases the life in slums with these characters but it moves between starkness and sentimentalism that seems to manipulate the audience in a way. But where the film wins us over is the characterisation of the protagonist Murugan, Kamal puts so much life into this man that we can overlook any other shortcoming there may be.

Mammootty devours the opportunity to perform with relish. He embodies Murugan in such a way that he takes us with him through the emotions that he has to experience. He shows a kind of vulnerability to accept everything life offers without having the ability to react; a sort of compromise with fate. What is missing in his character is rage or anguish. Perhaps he cannot afford to have these emotions. This makes Murugan similar to Madhavan, the character Mammootty portrayed in Blessy's Kazcha.
'Karutha Pakshikal' ultimately belongs to writer-director Kamal, who has made the movie firmly under control. Tightly written and well-directed, he shows no nervousness handling a genre different from what he or other Malluwood commercial filmmakers have handled before. Hope he continues experimenting with such themes — realistically and without compromises.

In a recent interview Kamal had cited that he had been compromising  all these days in filmdom,and this film is the one that had the least compromises. Says Kamal, " As all of us are making films for this hypocritical society, we try not to show the bitter truth. We hide such realities because we know people will not like to see those things". And here the film stays apart is definitely due to its originality and nonsensical nature. Refreshingly, he hasn't allowed much stereotypes to get in the way of good storytelling — a style that comes easily to him after his long mainstream innings. Some films attempt to showcase a series of wonderful moments and tend to go overboard, but Karutha Pakshikal captures many poignant moments and tells it as simply as it can without gimmicks, leaving you with a 'wow!'
The truant phase of the Vavas and Gulans over, Mammootty is back to where he rightly belongs; Murukan is another milestone in the actor's career, that should hopefully gain him many more accolades. The travails and tribulations, the twinge and the anguish, the vulnerability and the frustration – variegated emotions flit across the actor's face with an effortlessness that finds realization in the blinking of an eye, an impassive smile or the mellowed down mouthing. Malavika as the lass who sees the world through her father's eyes, is a treat to watch and invariably turns out to be the real heroine besides Meena and Padmapriya, who come up with competent performances. A taut script, non-intrusive cinematography and prudent direction are the added positives. Karutha Pakshikal is loosely based on Kamal's own story Manja Kaanaatha Penkutti, and hence, the cinematic adaptation remains a vibrant expression of this oft told, but unpredictable tale of being.

Karutha Pakshikal offers a slice of life from across a diverse milieu of existence, that has strains of melancholy strewn all over it. The black ravens with their clipped wings and fast fading eyes move on, sans a point or a purpose, unidentified and unceremonious, mastering frantically the art of survival. And yet it remains that hope and anticipation loom large over this engrossing rendition of a poignant melody that is radiantly orchestrated.
Karutha Pakshikal is very depressing and moves at snail pace. Kamal could have trimmed it a bit as the film lags especially in the second half. The director has resorted to too many sentiments to woo the lady audiences. Finally the film belongs to Mammootty. His composure his tears in the climax are tangible and real giving it heart-warming immediacy. And the way his character Murugan speaks in Tamilised Malayalam is a lesson in diction& dialogue delivery for students of cinema. Mammootty carries off this deglamorised role with conviction that would have been reduced to a caricature by a lesser actor.

Meena as Suvarna adds depth to melodrama. Jagathy in a cameo as the trusted Karanavar is simply outstanding. Padmapriya in a strong performance oriented role makes you laugh with her antics. Malavika as Malli wins all sympathy votes with her heart breaking innocence despite the deception around her.
The Kamal-directed Karuththapakshikal is a well-made, touching film that is rather slow- paced, realistic and shorn of all glamour and glitter, essential factors in a commercial venture.

Murugan, a migrant from Tamil Nadu ekes out a living by ironing clothes on the street. His wife Muththulakshmi is no more and he is the one who looks after his three children Azhagu, Mayil and Malli. While Azhagu and Mayil go to school, Malli goes along with her father, because she is blind. The big wish that Murugan has is that his daughter should be able to see someday. He knows that this can be done only if someone donates eyes to her. He also knows that the operation would incur huge expenses, well beyond his means.