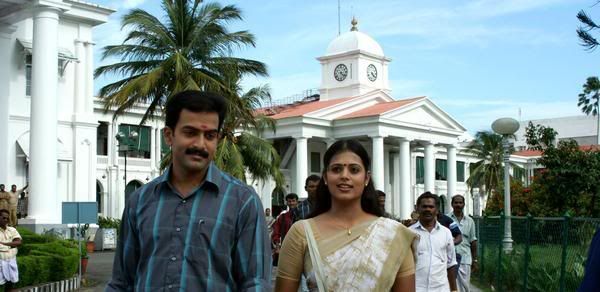 As per the reviews, the movies seems to be of good quality. Looks like Vaasthavam is a movie in which has good direction, story/screen play and performances – a rare occurence in Malayalam.
The Pritviraj-Padmakumar team has given us something to cheer. After Ammakilikoodu and Vargam, they have come out with Vaasthavam, a gutsy and realistic film, like its title. It is brilliantly executed film on the rampant corruption, power struggle and hypocrisy in corridors of the state secretariat in Thiruvananthapuram.Pritviraj as Balan Adiga has given a knockout performance and his transformation from an ordinary guy from Kasaragod to the shrewd manipulator of Kerala politics, turns out to be the scene stealer. Babu Janadharnan's screenplay has justified the characters vaulting ambitions and naked power play to remain the king maker till the end. Though the character has shades of grey, our sympathies go out to him as Padmakumar has etched it out beautifully.
Once again, it's time to rejoice for a scriptwriter and director who has relentlessly followed their insights and neither added a scene or shot to make their film feel more commercial or artistic. Yes, in Vaasthavam, director Padmakumar together with Babu Janardhanan has weaved a story of interlocking destines and the film holds you riveted till it lasts. And after several hiccups, Prithviraj once again has come of age with Vaasthavam in which he plays a corrupt, emotionless pragmatic secretariat staff who rises to the corridors of power with his practicality. The film is worth a watch in the theatres, thanks to an engaging directorial style of Padmakumar who believes in simple and straightforward way of story telling in this heavily loaded film.

 

The film is a welcome change in the placid superstar driven Malayalam film industry. It packs in quite a lot in terms of "a message for the masses" using the non-patented formulae successfully. Top line performance by principle actors, authentic locations, moodily lit interiors, good dialogues and spurts of emotional scenes are the major highlights of this action drama. The film is a blizzard of events of life in the capital secretariat which cumulatively leave an impact of a glossy documentary on the bureaucracy driven system.
Director M. Padmakumar and writer Babu Janardhanan have done a really good job. The subject is well-chosen and the treatment is up to the mark.

Performance by Prithviraj as Balachandran is excellent. Kavya Madhavan as Sumithra, Samvritha as Surabhi and Sindhu Menon as Vimala Thankachi do their respective roles well. However, it's Jagathy Sreekumar who scores best as Unnithan. Murali as the minister Pattom Raveendran and Salim Kumar as Thrippan Namboothiri have also done justice to their roles.

The others in the cast are also OK, except perhaps Rajmohan Unnithan, who has to learn that acting is a lot different from delivering political speeches. Cinematography by Manoj Pillai, Art Direction by Saloo K. George and Editing by L. Bhoominathan are in sync with the theme.
Reality is merely an illusion, albeit a very persistent one. Or so it seems, as Vasthavam takes off with a whimper, with liberal doses of a tirade against all possible iniquities, that supposedly chomp up the little remnants left of what was once a civilization. The one man army that literally marches forward finds himself at the crossroads a bit later, with quite a few decisions to make. The ones that would make or mar his life.

Padmakumar's first two attempts at filmmaking, drew mixed responses from the audience, though neither proved to be box-office hits. This time around he joins hands with script writer Babu Janardhan, and comes up with Vasthavam, with Prithviraj donning the lead role as Balachandran Adiga, a no-nonsense, non-political Brahmin from Kasaragod, who lands up in the capital city, as he has earned himself a job in the Secretariat. On the way to Trivandrum and a plush life, he has forsaken quite a lot, including his childhood sweetheart Sumitra (Kavya Madhavan). He gets betrothed instead to the docile Surabhi (Samvrutha Sunil), and beds none other than the shrewd Vimla (Sindhu Menon) as he moves ahead with sturdy strides, up the long winding ladder of poltics and power. He loses all three and almost his life in the deal, even as he realizes the earth moving away beneath his feet. Entangled in an array of events that get weary after a while, the plot loses track and ends up being just another chronicle of a warfare against corruption, sleaze, dishonesty and deceit.
Malayalam film, Vaasthavam, is about the games played in the corridors of power. Director M Padmakumar, who recently made the unusual police drama Vargam, gives us another grand vision. Vargam gave Prithviraj a landmark movie, and so expectations were quite high. Balachandran Adiga (Prithviraj) faces a lot of family responsibility. His father has lost everything due to socialist leanings and his four sisters are yet to be married. For the betterment of his family, he has to marry Surabhi (Samvrutha) to clinch a job in the State Secretariat. But his heart is with his childhood love, Sumitra (Kavya Madhavan