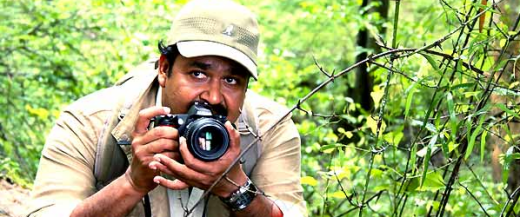 Muthanga is a wild life sanctuary in Wynad district and is the home of adivasis. When the State Govt. was not doing the land distribution to adivasis hundreds of them encroached on the Wild Life Sanctuary in protest. Days later, according to one version, police fired indiscriminately on the tribals killing one person. According to another version, the police fired to save one of the constables who was held hostage by the adivasis.
This incident forms the basis of Ranjan Pramod's directorial debut titled Photographer. In this movie, Mohanlal plays Dijo John, a photographer who gets involved in the incident.
Mohanlal plays the role of Dijo John who is married to Sathyavathi after a long love season. Dijo John being a Christian and Sathya a Brahmin, has to face much societal chaos before they planned to settle together. They now have a son called Saran.

The film tells the story of love, loses, pain and various incidents that take place in the life of an ordinary man.

The film is based on the Muthanga incident that happened years back in the state where innocent adivasis got killed in police firing. Nature photographer. Dijo, on an assignment for an international firm happens to be in the interiors of Wayanad when the agitations for the land and amenities by adivasis take place. Amidst his schedules he gathers a liking towards the life of the men of the forests and plans to place his camera towards them, for the empowerment of them.

And when the firing takes place on the agitation's and press people are forced to take a leave from the arena of misshapenness, Dijo becomes the only person from the outer world who knows the actualities of the misreported incidents.[ Photographer – Photgrapher into realities ]
Mohanlal is reportedly playing double role in this movie, this was kept under wraps till recently. As per the news reports the other avatar of the Mohanlal in this movie is a farmer. That must have been the surprise element. Another interesting aspect of the movie is that the music is by Johnson, one of our favourites from yesteryears.
Ranjan Pramod has displayed his talents as a script writer with movies like Meesha Madhavan, Naran and Achuvinte Amma and he is a person who knows the pulse of movies. This movie is different from his previous ones in the sense that this deals with a real life incident which survived many news cycles. Ranjan Pramod as a director is swimming in the ocean for the first time and it will be interesting to see his take on the incident.