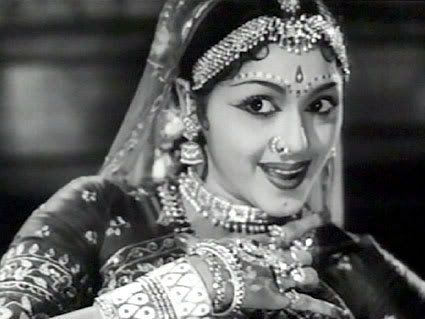 Famous actress of yesteryear and last surviving member of Travancore Sisters, Padmini, died yesterday at Appolo hospital in Chennai. Her end came on Saturday night at 12. She was 74. She recently moved to India from New Jersey, USA. It was while attending a function in Chennai, a felicitation function for M.Karunanidhi, by fim personalities that she had a heart attack.
Padmini was born at Poojappura in Thiruvananthapuram on 12, June 1932 as the second daughter of Thankappan Pillai, a landlord and Saraswathi Amma, a pious housewife. Her elder sister Lalitha and younger sister Ragini were also renowned film actresses and together were branded as "Travancore Sisters."

She began learning classical dances at the age of four. In classical dance, Guru Gopinath and later TM Mahalingam Pillai were her teachers. In 1942, at the age of ten, she had her arangettam. At 14, she became a member of a dance troupe that toured various parts of India. She also composed songs for that troupe.

At the age of 17, Padmini became the heroine of the Hindi film "Kalpana," That was the beginning of her film career. She then went on to act in Hindi, Tamil, Telugu, Kannada, and Malayalam films. [Padmini Life and Career]
She had acted in Raj Kapoor's Mera Naam Joker. In fact the only Malayalam film we have seen of her was Fazil's bucket load tear-jerker Noketha Doorathu Kannum Nattu. May she rest in peace.