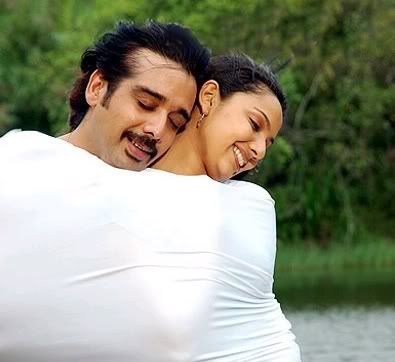 Moonnamathoraal was supposed to be a trendsetter in digital movie distribution technology, but seems like accolades for this movie are reserved for that fete only. As per the reviewers the story and execution seems to have fell short of expectations.
 But surely V.K.Prakash has the ability to do one memorable than this, when attempting for a test run of digital cinema?
The intention here is not to question the importance of best shots in the making of the film, which so many people consider as the basic of better film making. But the irrelevance of putting together the visual magic of shot beauty without a well knit script.

And that is all about Moonnamathoraal. The latest flick which got much hype due to its fully digital making and satellite supported projection. We had seen many film makers turning to become successful ad makers, but rarely had we seen some who made it big in feature films after starting their carrer in ads. V.K.Prakash, who has shown much of his calibre with his debut in Punaradhivaasam which fetched the national awards, once again falters here in need of a sketchy script. He has worked with well made shots and fast cuts but that by itself won't make a better film. Rajesh Jayaraman, the script writer once again proves himself a disclaimer when dealing with subjects that raise eyebrows.

The film brings together many sequences that we had seen in Ram Gopal Varma Horrror shows, but most leaving us without a chill.
Sify.com says:
V.K.Prakash first high-definition digitally projected film Moonnamathoral is technically ok. But the story and presentation of the film is shoddy, still far better than the earlier works of the film maker. Though Prakash and his technical team of Emil and Eric had boasted that they would release the film in 150 theatres across Kerala, hardly half a dozen theatres released it. The film could not manage to get a release even in their home town Trichur, and was released at Sri Rama in Amballur, 10 km away from the city. The projection done through the help of a satellite and hard disk was satisfactory and commendable.
 This time, V.K.Prakash and his script writer Rajesh Jayaram has helped themselves liberally from Alejandro Amenabar's The others and various scenes from Ramgopal Varma's horror factory like-Vaastushastra and post interval Jyothirmayi character being possessed from Bhoot! Prakash has also used clichéd scenes from horror films like a rolling tennis ball, opened curtains, door bell ringing, doors opening and shutting to give it a truly spooky thriller effect.
After his initial two films – Punaradhivasam and Freaky Chakra, ad-filmmaker-turned-director seems to have become more obsessed with technicalities rather than content. The frames of his last two films Mullavalliyum Thenmavum and The Police have given us a glimpse of a techno-savvy director, also betraying the ad-filmmaker in him too. And now, with his much touted Moonnaamathoraal, which is the first Malayalam film to be shot and released digitally, V.K. Prakash proves himself again as a techno-savvy director, but falters on the content side.
He amazes us and occasionally sends a sort of a shiver down our spine, but doesn't satisfy us or give us a film worth mentioning or remembering.
Related posts: