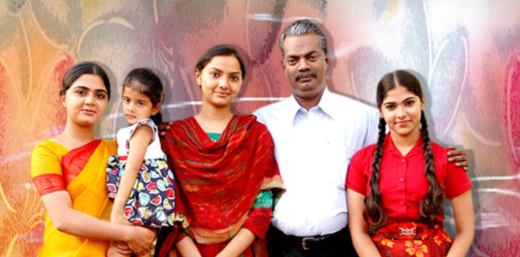 Electricity Board officer Samuel (Salim Kumar) has time only to talk about his youngest daughter Lisamma (Mukta). Compared to the other two daughters, Treesa (Suja Karthik) and Sherly (Samvritha Sunil), she is the most intelligent and Samuel's dream is to make her a doctor. Samuel's wife died after giving birth to Lisamma and he had to struggle to bring up the three girls. One day when Lisamma does not come back home from school, Samuel's world collapses.
The last bus to the town is St. Mary's and not seeing Lisamma in the bus Samuel along with his colleague Shekharan Nair (Murali) go to the house of the bus owner Kuchariya. Shekharan shows Kunchariya the love letters written to Lisamma by Kunchariya's son Tomy who is also missing. A panicked Kunchariya then agrees to find them and even agrees for the marriage.
One day Tomy turns up without Lisamma and claims that he was in Mumbai and had no idea about Lisamma. A devastated Samuel along with Shekharan goes to the police station and complaints to Inspector Reghunath (Indrajith). Soon the police find information that Lisamma has been found in a prostitution ring and had been abused by about forty people.
On knowing this Kunchariya contacts his relative, a police officer to get Tomy off the hook. The falsify evidence that Tomy was at an RTO meeting while the incident happened and frees him. Then the trial starts the family goes through all possible humiliation. After the trial, all the accused are set free and Samuel loses his mental balance. He poisons his children and tries to commit suicide, but that too fails. At the end in a twisted irony, while the accused go free, the victims end up in jail for attempted suicide.
This movie written by Babu Janardhanan was based on the Suryanelli sex scandal in which a minor girl in Idukki was abducted and sexually assaulted by a bus conductor in 1996. The movie depicts the lack of sensitivity among Kerala's so-called educated population. When Lisamma is introduced the first time, with a blanket covering her face and stepping down from the police van, a crowd of people swarm around her. One man wants to see her face. He shouts, "So many men have already seen you, let me also have a look" and he pulls the blanket off her face. During police questioning, the officer who is Tomy's relative wants her to describe what each men did to her. The police officer does not care that Samuel is sitting right there and how painful it is for him to listen to this.
The politicians too try to get maximum mileage out of this incident and one of them wants Lisamma to mention the name of one of his rivals in the list of men who abused her so that he can win the elections. For getting this done, the politician influences Johnny (Harisri Asokan), Treesa's husband. Samuel kicks Johnny out of the house and Treesa refuses to go with him. Johnny files for the custody of his daughter citing that he does not want her to grow up in a house in which a prostitute lives. The helplessness of a father to have to sit through all this is devastating.
Other than family, the film also finds fault with the hyper-competitive education system of the state. In Lisamma's school, they don't want kids who have less than 80% marks to sit for the final exam. Samuel always keeps pressure on Lisamma to graduate with high distinction. One day the teacher informs that Lisamma cannot sit for the final and scared to go home, she runs away with Tomy, who exploits the situation.
Babu Janardhanan's script adds one more layer of complexity to the proceedings, Samuel is a neo-convert. He was a Hindu and to get married to his wife he had to covert to Christianity. Neo-converts are not given the same status and are treated as backward castes. When Kunchariya agrees to the marriage of Tomy and Lisamma before all the proceedings, he makes it clear that both of them are not of the same status. Since Samuel converted to Christianity, his Hindu family members too don't speak kindly to him.
While there are cruel people like these, there are people with conscience too. One of them is Inspector Reghunath, who investigates the case sincerely, but gets overruled by superiors. Then there is the Chief Minister when informed that Tomy was at an RTO meeting, remarks that if RTO offices existed at the time of Mahatma Gandhi's death, police officers would have false evidence that Godse was in one such office.
Babu Janardhanan gives the best lines in the film to Murali. When people crowd around Lisamma when she is shown for the first time shouting to see her face, he turns around and yells that one day it will be your mother or sister in this state and will you want to see her face like this then also? When the local Christian priest who is big on conversion tells Samuel that one of the accused has converted and repented his sins, Murali shouts back saying religion should not be run like political parties where only the number of people matter.
The best decision director Lal Jose made in this bold and hard hitting film was to get Salim Kumar act as Samuel. It was a revelation and he absolutely was Samuel in the movie. The anger, the helplessness and frustration in his character was conveyed by him brilliantly. Mukta who acted as Lisamma does not have much dialogue in the movie, but her portrayal as the sexually abused was an excellent performance. Harisri Asokan gets to play a character with negative shades and at the end you hate him so much which tells you how successful he was. Murali yet again gives a faultless performance, so does Samvritha Sunil and Suja Karthik. Prithviraj comes in a few scenes as an innocent person who got framed in the case just because he happened to be in the hotel where the incident happened.
The movie has one beautiful song Ozhukukayi Puzha Pole sung by Reju Joseph and Sujatha. There is also a foot tapping devotional song Seon Manavalan and both these songs have excellent visualization.
While this movie is rooted in realism, there are some filmi scenes which were unnatural. When Tomy comes back he goes directly to Samuel's office and beats him in front of all Electricity Board employees. All the while no one moves and stops him and it looked a bit artificial. Similarly when Pritviraj is introduced, he is seen shaking a leg or two for the song, Kunninte Mele, which looked totally out of place in the film. To add to it, the song was sung by Jassie Gift, whose voice does not match Prithviraj at all.
In the final scene, when Samuel, Treesa and Sherly are carried away in the police jeep for their jail term for suicide, Lisamma alone is left behind. She had refused to eat food that day and hence was not poisoned. As she is standing alone, one of the pimps, a lady, comes from behind a tree and puts her hands on Lisamma's shoulders with a wicked smile and the movie ends.