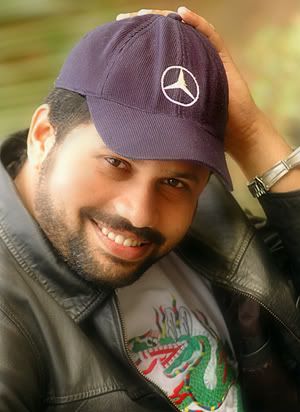 Alex Mathew is a playback singer with many films to his credit including Albhuthadweepu, Mahasamudram, Youth festival, and Sathyam. In this interview with varnachitram.com, he talks about his career , experience in singing and shares his insights about the music industry. This interview will be published in two parts.
varnachitram.com: Alex, we don't know much about you and your background. Maybe we can start with a brief introduction starting with what you were doing before your singing career

Alex: We have a family business and I was looking after it. I did my B.Com in Trivandrum and during that time itself I used to sing in programs and ganamelas. I became an artiste in All India Radio also. I had this craze for singing in movies and so used to ask various Music Directors for chance.
varnachitram.com: How did you get your first chance?
Thankaraj Sir was doing a movie called Thillana Thillana and told me that he was composing a song and wanted me to sing the track. Sir told that he had composed the song in my style. I asked him what was my style? I used to sing in Kishore Kumar style with yodeling, and Sir told it was in that style. Mostly I listen and sing ethnic type songs and so for this movie I sang the track for the song Shaby Baby. Finally it became my song.
It was a song in which Suresh Gopi Chettan and Boban Kunchako act on the stage. The last lines in the song was sung by Suresh Gopi chettan as well. This was recorded in 1998, but the movie release was delayed. This song was a hit in 1998 and 1999 as it was shown on TV. When the movie was released in 2000, it did not click, but people were familiar with the song even though most of them did not know I had sung it. Then I got called by M Jayachandran to sing a film called Youth Festival and then Visile Visile for the film Sathyam.

varnachitram.com: Were you trained in singing?
Alex: My parents, brothers and sister all sing. My mother was trained in singing and is trained in violin. I am married and have a 6 yr old daughter Annakutty. My wife is trained in veena and is my critic. She listens to my programs and points out my mistakes. My father sings Mohammed Rafi songs and mother old Tamil and Malayalam songs. They never thought that I would sing in movies and they are very happy.
I am trained classically under Perumbavoor Raveendranath Sir. First it was under Vishalakshi Ammal and then under Devarajan Master. Devarajan Master used to teach classical for a while and then ask me to go and buy tiffin. I used to clean his harmonium and this room. It was like being in a gurukulam. That was for almost two years. Then I went to learn classical from M G Radhakrishnan Sir.
varnachitram.com: Did you have to try a lot to get the first chance?
Alex: When I was in 8th and 9th, even before my voice broke, I wanted to sing in movies. At that time Lohithadas Sir and Fazil Sir used to come to Trivandrum Club and other places to compose songs. I used to go to the cottages in which these people were working and introduce myself and ask for a chance. They used to wonder why this kid is hanging out here. They used to make me sing and tell me to learn some classical and come back. If they were around then they would give me a chance.

varnachitram.com: So you were focused from a young age on your career.
Alex: Due to this craze, I never finished my studies and did not complete B.Com. During the time of exams, I used to lock the door and listen to songs in the Walkman. When my father used to knock the door and ask how my studies were coming along, I used to hide the Walkman and say that I will come first in the class. My father still says that it was always first from the last.
The person most responsible for bringing me to this level is M Jayachandran Sir.
varnachitram.com: That was one of our questions..
Alex: then Vinayan Sir. I am interested in composing. When Raveendran Sir and Johnson used to compose, I used to sit around when I was a kid and since I was a kid, they did not kick me out. I was a common visitor in Tharangini and the guards used to let me in. I told M Jayachandran Sir that when he is composing a song, I would like to be present. That is how I ended up singing in Sathyam. He gave me a chance in Youth Festival and also in Naatu Rajavu.
For Sathyam, I never thought that I would get the chance to sing Visile Visile. During the composing, Vinayan Sir asked who the WWF person was (pointing to me). I used to go to the gym. Jayachandran Sir told that he not my bodyguard, but a singer. He made me sing all the songs that were composed. I used to sing full throat and liked the song Visile Visile very much. While singing Visile Visile, in my mind then, I was praying Kittane Kittane.. Both Vinayan Sir and Jayachandran Sir had traveled along the path I was traveling and they asked me to sing the song. After that Vinayan Sir gave me lot of chances, also in his Telugu movie Vellinakshatram, in Albhuta Dweepu (Chakkara Mavinte). I have sung for 32 movies and the latest is with M Jayachandran, for Mohanlal in MahaSamudram. Also I have sung for for music directors like Suresh Peters, Mohan Sithara, Alan from Madras, Vidyasagar, and Ousepachan. Both Vinayan Sir and Jayachandran Sir had traveled along the path I was traveling and they asked me to sing the song. I have sung for 32 movies and the latest is with M Jayachandran, for Mohanlal in . Also I have sung for for music directors like Suresh Peters, Mohan Sithara, Alan from Madras, Vidyasagar, and Ousepachan. varnachitram.com: Thankaraj gave you your first break. Did you know him before?
Alex: I know all these music directors from Chennai and Trivandrum. I used to roam around at that time looking for chances. Also I used to sing in troupes. During track recording they all used to take me out for lunch and I used to hum their songs. I was trying to show that I could also sing. Thus going behind all these people, I have reached where I am today.Perumbavoor was the one behind, Megham Poothu Thudangi. Most of G Venugopal's award winning songs are by him. I have sung lot of tracks for him. While learning classical from him, I was a bit lazy. I used to go for recordings at that time and used to disappear from his classes. Learning music all the time can also make you crazy. When you go to sleep the music will be running in your head. We are from Pala and I used to go to my uncle's house and then come back and continue.
I worked in various jobs, I the manager of a hotel, manager in Yamaha, worked with my dad. I stayed for about one and half years at most places and then left because of my music craze or they used to fire me. When I had no money, I used to find a job. When I got a movie, I would leave the job. Now I have movies and shows and life is fine.
varnachitram.com: Most of your songs are fast numbers…
Alex: In Udayon the music is by Ousepachan and I don't have a fast number. Now I ask all music directors to give me a slow song. When you sing only fast songs, most music directors won't think of you when they compose slow songs. I have to work to change that image and now I am doing it. Most of these music directors conduct shows and there will be a slow song like Innale Ente Nenjile or Alliyambal. These songs will be sung by famous singers. Not so famous singers like me would be present on location much earlier. If the practice is at 10 am, I usually go there at 8 am. Dasettan and Sreekumar Chettan will come by 10:30 – 11:00 am. They all know that when they say 10 am. it will start only by 12, but people like me cannot take that much freedom.
Suppose the practice starts early, the music director will say, let us practice, Innumente Nenjile. When they turn around, I would be the one sitting there. They assume that I cannot sing slow and will say lets try one Alex style fast paced song and I will say, I will sing Innumente Nenjile and then you don't have to practice when Madhu Balakrishnan, Dasettan or Sreekumar Chettan comes. They are usually surprised that I can sing that song, and I will confidently say I can sing. This is how I show them that I can also sing low and after my singing they are also aware. I try to market myself that way.
varnachitram.com: So there is lot of effort in getting a slow song
Alex: In a movie there will be four songs. One will be fast paced and I know might get it. Most of the times the songs people remember and which they hum are always melodies. Let us say a man fights with his wife and is looking at the sky. The song that will come to his mind will be Innumente Nenjile. If they are in romantic mood and having a candle light dinner, they will sing Alliyambal. He will never sing Visile Visile and if he does, that woman will leave him for good. In a ganamela, if you sing Alliyambal, they will ask you to go home.
varnachitram.com: We have never been to any recording. Can you tell us the process of making a song?
Alex:Â During old times ,Dasetan or Jayachandran chettan has to practice their songs with the full orchestra for many days and finally oneday it will be recorded. That is how they achieved the perfection and each artist and singer contributed to the success. Now a days music director will call in the morning and say there is a recording in the evening and so you have to come immediately. Then either by flight or on horseback, you have to reach Chennai from Trivandrum.
Now a days, a producer, for example a NRI with lot of cash,but with no knowledge of art and film meets a director who has a story in his mind. These type movies are made in short time and most of them flop. Then there are knowledgeable producers who understand story and music and take time to make movies, like Thanmatra. Others find some story, find a director who has never made a movie, get a handsome guy as the hero, get a beautiful girl as the heroine and make the movie. Most of the old movies were never made this way.
Now things move very fast. We land in the airport, drive to the recording studio and no one asks if you had food or shower. In the studio, the director gives you his creation. The song could end up being a hit since he has taken time to compose this good tune. We don't know the story, the characters or the actor. When Das Sir sings for Madhu, he will imagine Madhu and sing accordingly. Singing for Prem Nazir is in a more dramatic style than for Madhu. Now there is no time for all these. One person will be sitting with the lyrics. He will hand it over and say, Kaithapram Thirumeni wrote these and will listen to the track. We have to absorb the song the instant you hear it. In half an hour or so we learn the song and step into the booth for recording. The music director will sing the first four lines and we have to get the feel for the song from it. When we sing, music director will say, what is this, let there be a feel, let there be a feel. It is not a relaxed singing. First we take a little Pallavi, then a little Charanam and then fit it all together.
varnachitram.com: How was it done in the old days?
Jayachandran Chettan and Das Sir used to be with composers like Devarajan Master when the songs are being composed for almost two weeks. From the creation till delivery, they are with the song. Due to constant practice they get a feel for the song and know exactly what is needed for a film. That is why their old songs are still memorable. Now a days singers don't have a feel for the song and even if it is there, the feel is artificial. The songs are too commercialized.
In old times, when Das Sir was practicing Prem Nazir sir used to come and see the recording to understand how he should act in the song. There used to a big team work. Now a days, the singer comes sings and goes. The producer asks the music director how it was and the music director says ok, and that is it. Now lyricist and the music director will be in a hotel room, sometimes with a singer and by noon they will compose the songs. Then by lunch time the producer will turn up and listen. Then the director will come and listen. From some fifty sixty tunes they make one song.
Earlier no one can question Devarajan Master or Illayaraja Sir. Theirs is the final word in music. Now a producer who has no music sense will also interfere. This does not mean that all films are made like this, some are. Some movies are still made very seriously. In old times, all movies were made seriously and all producers recovered their money. Now in some 100 movies, almost fifty will be flops. It is like fast food. Earlier our mothers used to grind chilli to make powder, make dosa batter from scratch. Now you get dosa batter in a plastic cover.
In future they will not need singers also as it can all be done using keyboards. The music director will ask if you need the sound of Das Sir or this new guy called Alex or Shing Dong from Africa or of Jassie. When you press one switch, the sound of Jassie will come. Now lot of musicians don't have work due to this thing called minus track. We singers only started this. For example, I have a program in Moscow. Our sponsor cannot afford the whole troop and will ask us to bring Karoke. We travel with Karoke, make money and come back. Now no one records with drums and use rhythm box instead.