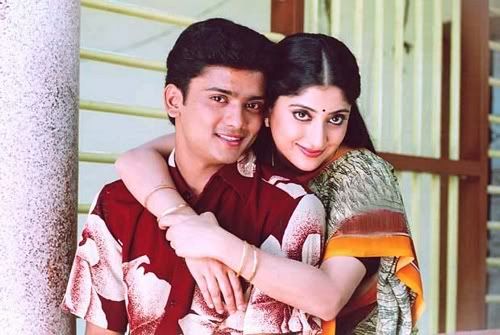 Written by Unni
Vinayan is one of the few directors who rarely takes films with any superstars. He has however casted two current superstars – Dileep, Kalabhavan Mani – in their early days. But his relations with them have strained since then and resulted in confrontations – the latest being the AMMA episodes. In BoyFriend, he has stuck to his usual practice of casting a not-so-heard-of lad as the hero. 
BoyFriend starts off with a cricket match between SMCE college and Banglore Engineering College. With 18 runs needed of the last 3 balls, in walks Ramesh Prasad (Manikuttan) and not surprisingly whacks 3 sixes to win the match for his college, much to the delight of his girlfriends and the Principal who is a Father (Lalu Alex). Ramesh has a lot of fans in college – predominantly female. However Ramesh does not have time for any of them. His "girlfriend" is his mother (wierd! is it not?). Ramesh's father had commited suicide long ago and he is very close to his mother.
Nandini Prasad (Lakshmi Gopalaswamy), Ramesh's mother has filed a case against the Home Minister Natesan (Mukesh) for trying to molest her. MLA Thankappan (Harisree Ashokan) is his confidante. The court acquits Natesan. Natesan comes to Ramesh's college for an award function and in his speech does a character assassination of Nandini questioning her morality. Her son repsonds to the allegations by smacking Natesan with the very cricket bat he had awarded to Ramesh. The same night, Natesan is murdered. Naturally everyone suspects Ramesh who goes hiding. Commissioner "Idiyan" Kartha (Sreenivasan) (Idiyan – because his ancestors have been specializing AVil Idiyal!!), is entrusted the case along with CI Vighneswar (Jagadish). Kartha – the cool and bumbling police officer("I am still a bachelor boy, you know" is his punchline), despite being relieved from the case finally manages to find the real culprits.
Boyfriend is inspired from the Tamil movie "Ram" (Jeeva/Saranya play son-mother) and the real-life incident involving Nalini Netto/ Neelalohithadasan Nadar.
Manikuttan, who enacted Kayamkulam Kochunni has the potential to become a hero. He emotes fairly well, dances and does the stunts with aplomb. Lakshmi Gopalaswamy cries and rolls her eyes most of the time. Mukesh steals the show as the amorous minister who as he puts it, has a "weakness" for "Pa-Pe-Po" (Panam, Pennu and Power). Harisree Ashokan plays his side-kick but overdoes the "Poeey". Sreenivasan and Jagadish have done the role of police officer umpteen times. They do manage a few laughs. Lalu Alex hams. Yesudas incidentally does a cameo. But its better that the "Gana Gandharvan" sticks to singing. Idavela Babu, Ganesh Kumar and Mamu Koya also make brief appearances.
The movie has a melodious number in "Omale" which depicts the special relationship between mother and son. The other notable number "Ramzan Nilvathu" has Yesudas singing on screen.
BoyFriend has a few drawbacks. Vinayan's mocking of the superstars by making their masks and mimicry artists wearing them is in poor taste. Also having an unintelligent police officer is nothing new. But trying to make the audience laugh by making Sreenivasan watch a "Kuli scene" is taking things too far. So also the violence towards women (Laxmi Gopalaswamy in this case),which has become a "feature" of Vinayan films.
Even though BoyFriend had a novel theme, it could have been given a better treatment. The way Vinayan has handled it makes it a one-time watchable movie.