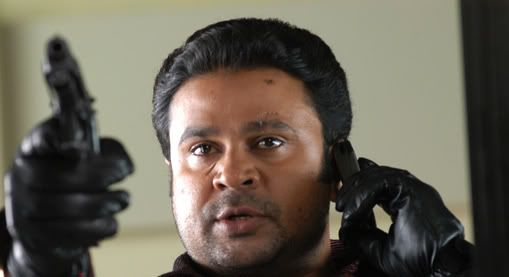 America got its independence on July 4th and Dileep considers it to be his lucky day. We don't know the connection between the two, maybe it could be that he is a reincarnation of George Washington. For past few years Dileep movies released on this day have seen cash flow like from a malfunctioning slot machine in Las Vegas. It did not matter that the movies were really brain dead ones like C.I.D.Moosa or decent ones like Meesha Madhavan.
Now again on July 4th, Dileep's new movie, which has a unique story is getting released.
The film tells the story of young Vijayakrishnan who makes some very clever moves to defeat his powerful enemies, who had turned his world upside down and whom he cannot perhaps vanquish by dint of physical prowess. And since the moves that Vijayakrishnan makes are carefully thought out and executed, akin to the moves on a chess board, the film's title becomes very much significant. Young Vijayakrishnan has always been an innocent villager. His mother is a dance teacher. At a juncture they shift to the city.

Vijayakrishnan's mother runs a dance school named Kalakshetra. And then something untoward happens and Vijayakrishnan's world is turned upside down, totally lost. He finds himself pitted against enemies who are so powerful that he cannot defeat them by physical prowess alone. Moreover he has certain handicaps and limitations too. And hence Vijayakrishnan plans to defeat them using shrewd intelligence. He makes some very careful moves against his enemies. [Chess, ready to hit the screens]
The story of a blind man seeking revenge using his brain power is fascinating and will be a welcome break from those Suresh Gopi revenge movies in which it is the spectator who goes blind finally. Revenge stories are not new, but if something new twists are added to make it more interesting, then it could excite the viewers, like Ghajini, in which a man with short term memory loss seeked revenge. The movie is scripted by Dileep's team members Sibi and Uday, the twins joined at the hip, who know to work around Dileep's weak spots and make him look good.
For this movie Dileep is working with Raj Babu, whose previous directorial venture Chief Minister Gowthami was seen only by his close relatives. The heroine is Bhavana, who also was the heroine in a previous July 4th venture – C.I.D.Moosa. Currently even real super star movies are not getting audience as people prefer to see Ronaldo and Ronaldihno over Mammotty and Mohanlal . Expectations are high for this movie and the competition is between the July 4th Gods and the football Gods. So long as the movie is above Immini Nalloral quality, it should be a hit.